Retail sales hit by bad weather and rising prices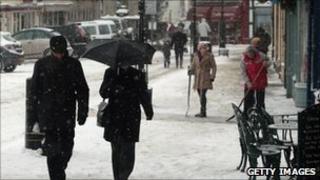 Bad weather and rising prices hit retailers in December.
The volume of retail sales was unchanged from the previous year, the Office for National Statistics said.
It is the first time there has been no annual growth in retail sales volume in a December since 1998. But the value of retail sales rose 2%.
Falling sales of food and fuel were responsible for the flat figures, with rising sales of winter clothing failing to make up for them.
The Met Office has confirmed that December was the coldest month since records began 100 years ago.
The volume of sales in shops selling predominantly food was down 3.4% from December 2009, which was the worst performance since records began in 1988.
'Hugely disappointing'
There was also a 10.7% fall in the volume of sales at petrol stations, suggesting that people were leaving their cars at home as a result of the snowy conditions.
"These are hugely disappointing figures," said Hetal Mehta, UK economist at Daiwa Capital Markets.
"Of course some fall in retail sales was to be expected given the disruption caused by the snow, but the extent of the fall suggests there is more to it than just poor weather deterring consumers."
The fact that volume sales were unchanged while value sales rose, shows signs of the 3.7% CPI inflation in December, which may have been deterring shoppers.
December's figures also show the last month before the raising of VAT from 17.5% to 20%.
"Household goods sales fell by almost 1%, suggesting that the snow stopped consumers bringing forward spending on big-ticket items before the VAT rise," said Vicky Redwood at Capital Economics.
"We would not get too gloomy about any of this," she added. "Anecdotal evidence suggests that consumers flocked to the post-Christmas sales, meaning that spending should rebound in January."
The December figures include the first week of the post-Christmas sales.
Online sales
There is concern that the poor retail sales combined with recent weak data from the service sector could mean that the figures for economic growth from October to December, which are due on Tuesday, could also be weak.
The ONS also said that £766.6m had been spent on online sales, which was up from £502.3m in December 2009.
That figure accounted for 10.6% of total retail sales excluding petrol and diesel.
The overall retail sales figures reflect a mixed set of Christmas sales figures from some big retailers.
Sainsbury's said it achieved it "best ever" Christmas sales, with 3.6% growth, while sales from Morrisons rose 1%, Tesco grew 0.6% and Marks & Spencer grew 2.8%.