GE boss Jeffrey Immelt to head new US economic panel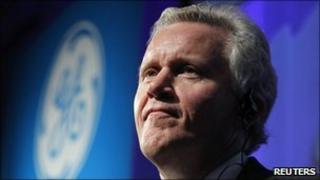 US President Barack Obama has named Jeffrey Immelt, the boss of General Electric, as the head of a new economic advisory panel.
The President's Council on Jobs and Competitiveness replaces the Economic Recovery Advisory Board led by former Federal Reserve head Paul Volcker.
Mr Obama said he was "proud and pleased" Mr Immelt had taken the job.
The appointment is an attempt by Mr Obama to build stronger ties with the business community, analysts say.
Earlier, Mr Immelt said he had been asked to chair the new body in an opinion piece for the Washington Post.
President Obama told workers at a GE plant: "I am so proud and pleased that Jeff has agreed to chair this panel, my council on jobs and competitiveness, because we think GE has something to teach businesses all across America".
"It's a great thing that the economy is growing but it's not growing fast enough yet to make up for the damage that was done by the recession."
Transition
Mr Obama announced late on Thursday that Mr Volcker would step down as an adviser when his panel's mandate expires on 6 February.
"I will always be grateful to Paul Volcker for his service as the head of my Economic Recovery Advisory Board," the president said.
Mr Immelt has also served for the past two years on the panel chaired by Mr Volcker.
"I look forward to leading the next phase of this effort as we transition from recovery to long-term growth," he wrote in the Washington Post.