Hewlett-Packard shakes up board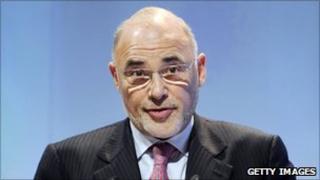 Hewlett-Packard has replaced a third of its board of directors in a management shake-up under new chief executive Leo Apotheker and chairman Ray Lane.
The computer maker is bringing in five new directors, including former eBay chief executive Meg Whitman.
Mr Apotheker and Mr Lane took over at HP three months ago after the departure of former boss Mark Hurd who quit after a sexual harassment investigation.
Some shareholders were angry at the way Mr Hurd was forced out of the company.
A board investigation found Mr Hurd had not broken harassment rules, but was in breach of HP's "standards of business conduct."
He resigned in August after the board said he filed inaccurate expense reports to conceal a "close personal relationship" with the female contractor who made the allegations - a charge which Mr Hurd's representatives disputed.
Changes
HP said that the new directors would bring fresh thinking to the company, including expertise in areas such as telecommunications and international experience.
As well as Ms Whitman, incoming directors include Shumeet Banerji, chief executive of Booz & Co; Gary Reiner, former chief investment officer of General Electric; Patricia Russo, former chief executive of Alcatel-Lucent; and Dominique Senequier, chief executive of Axa Private Equity.
HP said directors Joel Hyatt, John Joyce, Robert Ryan and Lucille Salhany would not stand for re-election by shareholders and were leaving voluntarily.
"This change was [about] two things - the handling of the Mark Hurd situation, which was very controversial, and that with a new CEO it makes sense to have someone new," said Kaufman Brothers analyst Shaw Wu.