British Airways cabin crew vote for fresh strikes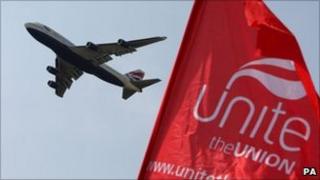 British Airways cabin crew have voted to strike again, Unite union has said.
They voted to take industrial action in protest against the removal of travel perks from members of staff who went on strike last year and other forms of disciplinary action.
The dates for the strikes have not yet been announced.
BA is formally merging with Iberia on Friday. Shares in the new International Airlines Group will be listed in London and Madrid from Monday.
BA and Iberia will retain their brands as part of the move that is designed to save 400m euros (£337m) a year by its fifth year.
'Smaller membership'
Unite said its members voted by 5,751 to 1,579 in favour of further strike action, on a turnout of 75%.
"For the fourth time in 13 months, BA cabin crew have voted overwhelmingly in support of their union and expressed their dissatisfaction with management behaviour," said Unite's leader Len McCluskey.
"Indeed, the turnout and the majority on this occasion are much greater than in the last ballot.
"Surely BA management must now wake up and listen to the voice of their skilled and dedicated employees."
However, BA said that Unite did not have "majority support" for strike action.
"Of our 13,500 crew, only 43% voted in favour of strike action in this ballot," the airline said.
"Unite has lost about 2,500 cabin crew members since this dispute started, as crew have voted with their feet. Even with a smaller membership, the proportion of Unite members supporting disruption continues to fall, contrary to the union's claims.
"We urge Unite to return to the deal we negotiated, which guarantees pay rises for the next two years and secures terms and conditions for our existing crew that are the best in the UK industry."
The union will have to give seven days' notice of any fresh strikes.
BA has said it has contingency plans, insisting that in the event of another strike it would be able to run normal timetables from London Gatwick and City airports and all long-haul and many short-haul flights from Heathrow.
Disciplinary action
The Unite dispute, originally over job cuts, has already cost BA £150m and led to 22 days of strikes.
The dispute started in November 2009, when BA reduced the number of cabin crew on long-haul flights from 15 to 14, and introduced a two-year pay freeze from 2010.
However, the most recent ballot was in protest against the removal of travel perks from staff who went on strike last year.
Unite has said the other issues covered in the ballot included the restoration of all earnings docked from crew members who were genuinely off sick during this year's strikes, and a "full and proper discussion of the trade union facilities agreement at the company".
The union is also asking its members to consider the introduction of mixed cabin crew teams, with workers on different terms and conditions without Unite's agreement.