Keydata compensation levy of £247m announced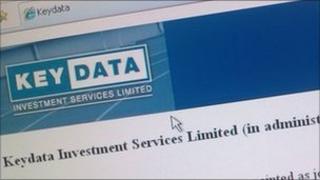 Investment firms and financial advisors will have to pay another £247m towards compensation for people who lost money when the Keydata investment firm collapsed.
The money forms part of an interim levy being raised by the Financial Services Compensation Scheme (FSCS).
The scheme compensates investors when investment firms collapse.
Keydata was shut by the Financial Services Authority in 2009, with 30,000 UK investors facing the loss of £450m.
Last autumn, after waiting more than a year for a decision, about 19,000 of them were told they could apply to the FSCS for payments.
These are now being processed, with payouts up to the FSCS limit of £50,000 per person which came into effect at the start of 2010.
The FSCS said the Keydata collapse was the biggest investment failure it had yet dealt with.
Lifemark
The individuals being compensated had bought investments which Keydata had sold on behalf of a Luxembourg investment firm called Lifemark.
This firm is currently under the control of a Luxembourg administrator who is still trying to devise a rescue plan for it and its investments - second hand US life insurance policies.
Mark Neale, the chief executive of the FSCS, said: "We have a duty to compensate consumers who have eligible claims and need to levy the industry for the continuing costs of the failures so we can protect investors."
"No matter how difficult it may be, we have to meet our obligations to consumers," he added.
Although the fate of Lifemark has still not been resolved, the FSCS decided last year that the policies sold by Keydata to UK investors were unlikely to have any value, triggering the start of the compensation process.
Earlier payouts
Earlier in 2010, 5,500 other investors who had bought £103m of bonds issued by SLS - another Luxembourg company whose investments were sold via Keydata - were told their money had been stolen in a fraud.
They have already been offered £42m of compensation from the FSCS, covering part of their losses.
Of the total interim levy now being raised by the FSCS, £93m will come from financial advisers and £233m will come from fund management firms.
A previous interim levy of £80m was raised from intermediaries in early 2010.
Of this, £50m went towards compensation for investors in a number of collapsed firms: Keydata, Pacific Continental Securities and Square Mile Securities.