Rent arrears rise again say letting agents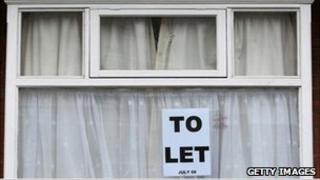 The finances of private tenants deteriorated in December, with nearly 12% of all rent unpaid or paid late.
The arrears were calculated as part of a monthly survey by the property firm LSL, and were up from total rent arrears in November of 10%.
LSL said unpaid rent now amounted to £276m, the highest level since December 2009.
It said tenants' finances were being squeezed by higher unemployment and warned that arrears would become worse.
"Arrears have been rising since October as public sector spending cuts start to bite in many areas of the country," said David Newnes of LSL.
"With unemployment set to increase this year, and rents likely to rise once more in the spring, more tenants will be at risk of falling behind with rent payments."
Landlords
Average rents charged by private landlords fell back in December, for the first time since January 2010.
The LSL buy-to-let rental index shows that average rents dropped by 1.2% in December, to £684 a month.
The very cold weather deterred some prospective tenants from looking at flats and houses.
However the drop was mainly due to landlords reducing their rents to tempt new tenants during the Christmas holidays.
"Landlords offering properties during the holiday season often lower the asking rent to avoid a costly void period," said David Newnes of LSL.
"If a landlord cuts the rental price by 5% to fill a property immediately, he will save £275 over the year rather than seeing their property vacant for the duration of the month.
"Nevertheless, with the supply of mortgage finance to both first-time buyers and would-be landlords still constrained, we are likely to see rents re-start their upwards march before the spring," Mr Newnes added.
LSL owns letting agents such as Your Move and Reeds Rains and says rents are now 3.8% higher than a year ago, despite the drop in December.
However it warned that falling house prices were undermining the return that buy-to-let landlords could expect in the short term.
"If property prices continue to decline at the same rate of the last quarter, an investor entering the market now could expect to make a total annual return of £3,259 per rental property - equivalent to £8,211 in rent, and capital losses of £4,953," LSL said.