Benefit errors still cost millions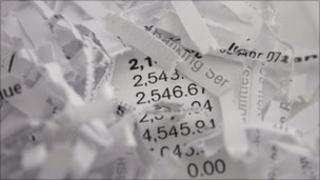 Little progress has been made in reducing losses caused by benefit recipients making errors in their claims, a report has said.
Some £800m was not paid to people in 2009-10 who were entitled to the money because of errors on forms, the National Audit Office (NAO) said.
Another £1.1bn was lost to the taxpayer owing to overpayments of benefits.
The NAO report found "no discernable decrease" in losses after three years of a five-year plan to cut errors.
The spending watchdog said that overpayments caused substantial unrecovered losses to the taxpayer, and underpayments could cause hardship for individuals.
It said that there was a "clear imperative for improvement" on the issue by the Department for Work and Pensions (DWP).
Mistakes
Errors often occurred because claimants' circumstances changed, and they did not realise this could affect their benefit payments so they failed to inform the DWP. This was a smaller proportion than the amount lost through fraudulent claims.
The report accepted that mistakes were difficult to "detect, correct and prevent", with the highest amount coming through housing benefit claims.
It said that the DWP had been working to reduce its own administrative errors, but not enough attention had been paid to errors made by claimants.
There had been little difference in overpayments and underpayments caused by claimant errors in 2009-10 compared with 2006-7 when a five-year strategy to tackle the problem was launched.
The DWP had also drawn few conclusions on how to target the problem, owing to a lack of information.
"The benefits system is complicated and it is inevitable that mistakes occur," said Amyas Morse, head of the National Audit Office.
"The Department for Work and Pensions, therefore, faces a significant challenge in tackling error by claimants."
Simplification
The DWP said it was making changes to simplify the system, such as double-checking details with claimants and making letters and information leaflets easier to understand.
It also said that people needed to make fewer calls when registering official events such as births and, from this year, would be able to update details online.
"We are absolutely committed to reducing customer error and our welfare reforms will simplify the benefits system making it easier to understand and less open to mistakes," a spokesman for the department said.
"Our new fraud and error strategy focuses on preventing error in the first place, as well as detecting and correcting mistakes when they do happen."