UK car production rose 27.1% in 2010, says SMMT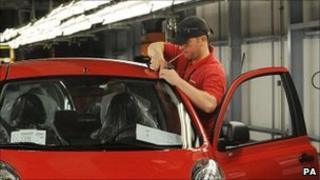 UK car production rose sharply in 2010, with carmakers manufacturing 1.27 million cars, a rise of 27.1% on the previous year, figures show.
In the month of December, car production was up 10.6% from a year ago to 94,325, said the Society of Motor Manufacturers and Traders (SMMT).
Commercial vehicle production was up 35.7% at 123,019 units.
The annual figures confirm a recovery in the UK car industry after sales were hit hard during the recession.
However, production levels are still a long way from returning to pre-downturn levels.
Total production, which includes both car and commercial vehicles, was 1.39 million in 2010, compared with 1.75 million in 2007 and 1.65 million in 2008.
Record year
"UK manufacturers exported more than a million vehicles last year, underlining the competitiveness and desirability of the current model line up," said SMMT's chief executive Paul Everitt.
Engine production also increased sharply, with "strong export performance", Mr Everitt said.
"This performance continues to underline the significant role played by the UK in global production."
The biggest car manufacturers in the UK include Japanese firms Honda and Nissan, BMW-owned Mini, and Jaguar Land Rover, which is part of India's Tata Motors.
Nissan said 2010 was a record year for production at its Sunderland plant, with 423,262 vehicles made.
Ford also makes its best-selling Transit van in Southampton.
The UK also has a number of small independent sports car manufacturers, such as Morgan, Bristol and Ariel.