Bankers increase salaries to compensate for bonus cuts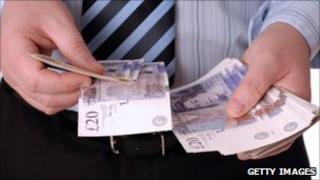 They have been doing deals inside the Royal Exchange since Elizabeth I was on the throne.
Once home to the London Stock Exchange, the ornately-tiled cafe that dominates its courtyard is still a popular spot for bankers to do business.
Kate is a frequent visitor. She is a corporate finance director who has been in the City for 20 years.
She is not supposed to talk to journalists so she does not want us to use her full name or identify the company she works for.
She is still waiting to find out what her bonus will be, but she is aiming high:
"My target is always 100%. What do I expect? Well let's see how the recovery goes. We've been paid nothing for two years, everybody's taken pay cuts so anything's better than that."
'Worthless' shares
For the really big hitters, the target is often significantly more.
Dominic Connor, a headhunter who specialises in recruiting mathematicians or quants (City financial analysts), says they expect to be handsomely rewarded to compensate for long hours and intense pressure.
He says they have "a gentleman's agreement that they will get a percentage of the money they make, so 100% is by no means uncommon.
"Two hundred or 300% bonuses of their base, that's the sort of money they are looking at," he says.
New rules introduced by European regulators mean those getting payouts above £500,000 can only receive 20-30 per cent of it in cash. The rest has to be deferred or given in shares.
The change has not gone down well with some of the star performers, who had been looking forward to huge payouts.
Headhunter Dominic Connor says many risk-takers and money-makers see shares as pretty worthless.
"You don't want to earn shares in your own company - it's doubling a risk," he says.
"You want to own shares in someone else's company. Because if your company goes belly up, you will lose your job and you will lose your stock options."
Parallel universe
Banks have found a way to try and counter the new rules on bonuses by pushing up basic salaries by substantial amounts.
One trader who has worked in investment banking for 20 years says his wage increase had been substantial.
He does not want us to use his name. "Now bonuses are regarded as evil," he says.
Consequelty, he says, "salaries have risen, I had a 50% salary rise".
This may mean his bonus is smaller, but he will not be losing out.
"I think I have had a good year," he says.
"I think my performance was similar to the previous year, so I would hope the total compensation to be about the same."
Other banks have gone even further.
One woman, who we will call Sarah, has worked in human resources in investment banks for more than a decade.
She says what she calls - "the not-well-paid, those on £30,000, £40,000, £50,000" - have not seen much of an increase.
But for staff earning between £80,000 to £200,000, a 50% increase is not unusual. In fact, for her department, Sarah says "anything up to 60% we were quite comfortable with, we only looked at salaries where it was over a 60% rise".
But even this level of pay rise, which would take many people a decade to earn, is not enough for the star traders.
Headhunter Dominic Connor says when he talks to them about salaries rather than cash bonuses, "they feel almost as if they've been done down, disrespected by their employers".
Politicians often talk of bankers living in a parallel universe, detached from the rest of the UK, which is coping with pay cuts, shrinking budgets and job losses.
Even Dominic Connor agrees that outside of the banking bubble, the attitude to money can seem strange.
"People, bizarrely enough, were offended by a 30% pay rise, and that's one of the differences between banking and the real world. People can be upset by only getting 30% more".
The Report is on BBC Radio 4 on Thursday 20 January at 2000 GMT. Or listen via the BBC iPlayer or download the podcast.