Digital music sales 'slowing'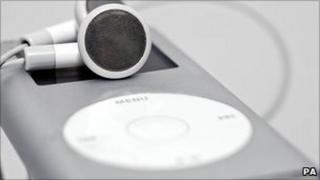 The growth in digital music sales has been slowing in recent years, according to industry figures.
Sales grew 11-fold between 2004 and 2010 to an estimated $4.6bn (£2.9bn), the International Federation of the Phonographic Industry (IFPI) said.
But while revenues grew by 25% in 2008, that figure slipped to 12% in 2009 and to just 6% in 2010.
The group also warned of the challenges facing the industry from piracy, with 95% of music downloads made illegally.
"As an industry we remain very challenged," IFPI chief executive Frances Moore told the BBC.
"Some 95% of intellectual property is stolen.
"It doesn't just affect the record companies, it affects jobs. We have independent studies that show that something like 1.2 million jobs could be lost in the creative sectors by 2015 - something like 10% of the workforce."
'Heart of industry'
Meanwhile, seven leading music industry executives have pledged to support struggling music and book retailer HMV.
In a letter published in The Times newspaper, the executives, who include bosses of the four largest record labels - Sony, Universal, Warner and EMI - say: "HMV is at the heart of our industry, and they have the full support from each of us."
HMV has already warned that profits would be at the low end of forecasts after disappointing Christmas sales, and confirmed this week that some of its suppliers have had their levels of credit insurance cut.
But in a show of support, the seven bosses wrote: "With reference to the recent speculation in the media, we would like to clarify that nothing has changed in each of our individual trading relationships with HMV - it is business as usual.
"We are each continuing to supply HMV with our music and they are continuing to do much more than sell it; their unique approach plays a vital role in breaking new artists and supporting British culture in the broadest sense."