Scam mail from fraudsters 'should be intercepted'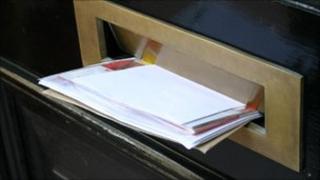 Mail that can be clearly identified as scam letters should be intercepted to protect the vulnerable from fraudsters, an MP has said.
Conservative MP Caroline Nokes told the Commons that people in the UK lost £3.5bn a year to cons, including fake lottery and business letters.
She called for police and customs to be able to seize some of this mail.
Although it could raise awareness of the issue, her Bill has little chance of becoming law.
Junk mail
Ms Nokes said that some victims received more than 100 letters a day after being targeted by fraudsters.
Criminals also used the telephone and e-mails. However, police were aware of how and where some scam mail entered the country but were unable to stop it, the MP said.
She said trading standards officers were keen for the police, customs officers, and the National Fraud Authority to intercept scam mail, and for Royal Mail to disclose the details of potential victims to the local trading standards service.
She accepted that current data protection and human rights legislation could prevent interceptions.
"I do not suggest for one moment that there should be a blanket power to intercept mail without a warrant, but such mail is easy to identify, the same victims are being targeted hundreds and hundreds of times over and it ought not to be impossible to introduce appropriate safeguards against breaches of human rights," she said.
Her Bill was given an unopposed first reading but stands little chance of becoming law owing to a lack of parliamentary time.