Primark sales rise despite cost pressures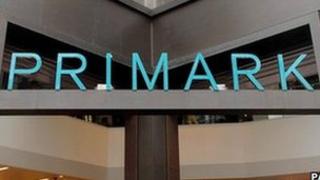 Clothes chain Primark saw strong sales growth in the final four months of last year despite higher costs and severe weather in December, owner Associated British Foods (ABF) has said.
Total sales in the 16 weeks to 8 January were up 12% on a year earlier, reflecting "good" like-for-like sales and 10 new store openings.
But the group said margins at Primark would come under pressure from the VAT increase and higher cotton prices.
ABF revenue grew 10% from a year ago.
"With Primark's value offering still appealing to cost-conscious consumers, the cold weather appears to have provided owner ABF with few problems," said Keith Bowman at Hargreaves Lansdown.
Higher prices
ABF said said that "good growth" was achieved by all of its UK grocery businesses.
The group said that the cost of a number of commodities had increased "significantly" over the period, and that it would have to increase prices to offset higher wheat costs in particular.
It also said profits in the coming year would be "moderated" by the impact of adverse weather on UK sugar production.
Primark operates 214 stores mostly in the UK, although it also trades in the Irish Republic, Spain, Germany, Portugal, the Netherlands and Belgium.
As well as Primark, ABF owns a raft of well-known food brands, including upmarket tea business Twinings, Silver Spoon sugar, Kingsmill bread and Patak's spices.