China's economy grew 10.3% in 2010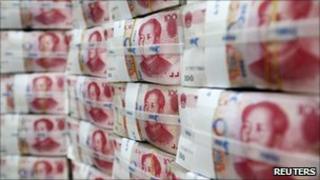 China's gross domestic product (GDP) grew a faster-than-expected 10.3% in 2010, official statistics show.
Growth figures for the fourth quarter also defied expectations of a slowdown, rising to 9.8% from 9.6%.
But inflation eased to 4.6% in December from a 28-month high of 5.1% the month before, as food price pressures waned. Inflation for 2010 as a whole was 3.3%.
Aware of the unrest sparked by past periods of high inflation, China's leaders make curbing it a priority.
Rising prices
They have raised interest rates twice in the past four months and raised banks' required reserves in a bid to control food and housing costs.
Analysts say the apparent easing of inflation reflects a relatively high base figure recorded in December the year before, and that the government needs to do more.
The December inflation figure was higher than markets had anticipated, as was fourth quarter growth.
The huge sums of money pumped into the world's second largest economy by state-run banks are hindering moves to bring inflation under control, they add.
However, Ma Jianting, head of the National Bureau of Statistics, reiterated the Communist Party line that inflation was being fuelled by overly loose monetary policy in developed countries.
Dongming Xie, of OCBC Bank in Singapore, told the Reuters news agency: "Growth momentum remains strong. However, inflation is the key focus of the market. It will be a challenging year for China to battle inflation.
"December inflation is higher than our expectations. Food prices continued to go up in the first half of this month due to seasonal demand," he added.
Tightening measures
Following the data release, short term market interest rates shot up almost 2%, while share prices on the Shanghai stock exchange fell 3%.
Market participants fear that the strong data will increase the authorities' determination to cool the economy in the near future.
The People's Bank of China has so far shied away from raising interest rates quickly - despite surging inflation - because of the pain it would cause to existing lenders.
Instead, the central bank has relied mainly on raising banks' reserve requirements in order to curb the volume of lending.
The central bank did so for the seventh time on Thursday, a day after it set a tough new quarterly lending quota for the main state banks.
But this approach did not stop banks overshooting the official 7.5bn yuan lending cap for 2010 by an estimated 45%.
A rise in the state-controlled exchange rate may also be another tool to slow down the economy, although analysts only expect Beijing to allow a 5% appreciation this year.
The yuan has strengthened 0.8% against the dollar in recent days, although this may be politically motivated to coincide with President Hu Jintao's visit to the US.
Rebalancing act
The inflation and growth data were officially published by the National Bureau of Statistics on Thursday, although they had been leaked a day early by Hong Kong-based Phoenix television.
Investment in construction and other fixed assets rose 23.8% in 2010, with the biggest state-controlled commercial lenders giving out $36.4bn in new loans, much of it for property development.
Sales of land-use rights to developers increased by 70% last year, helping property prices rise 6.4% compared with 2009.
Industrial output meanwhile rose strongly in 2010, suggesting there is growing demand again for Chinese-made goods.
In a more encouraging sign, retail sales rose by an inflation-adjusted 14.8% during the year.
Consumption in China absorbs a worryingly low proportion of economic output, with a much bigger share used up in investment.
Economists say that in order for the economy to rebalance smoothly, consumption will need to grow much more quickly than the overall growth level for many years.