RAC: More incentives needed to encourage green car sales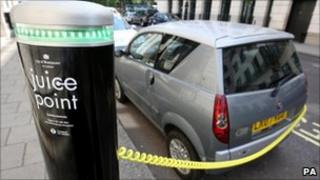 Government grants alone will not create a green revolution in the car market, the RAC Foundation has said.
On 1 January 2011, the British government implemented a scheme in which buyers of plug-in vehicles could get a grant of up to £5,000 ($8,000).
But the RAC think tank said that electric cars are still too expensive.
It also suggested that the industry needs to address drivers' fears over range, reliability, battery life and re-sale value.
Meeting Emissions targets
The Committee on Climate Change estimated that getting 1.7 million plug-in electric vehicles on the roads by 2020 will significantly reduce greenhouse gas emissions.
The RAC Foundation report said that if that target is to be met, the government should introduce more radical incentives such as the so-called feebate system seen in France.
The French initiative was introduced in 2008. It gives significant rebates to buyers of the greenest cars, but also makes buyers of gas-guzzlers pay an extra fee over the price of the car.
Price of going green
The report highlighted that even with the £5,000 grant, electric cars such as the Nissan Leaf and the Mitsubishi iMiEV will still cost around £24,000, whereas the Ford Focus ECOnetic diesel car costs about £17,000.
"While the current subsidies are welcome they are only a start," said Professor Stephen Glaister, director of the RAC Foundation.
"The battle to bring down prices could be a long and difficult one.
"In the meantime, consumers need to be reminded that many of the current range of hybrids, petrol and diesel engines come with serious green credentials."