Tunisia's credit rating downgraded by Moody's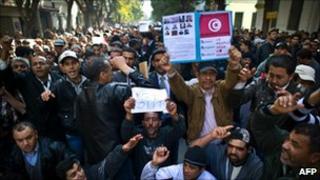 Tunisia's credit rating has been cut by rating agency Moody's because of the continuing unrest in the country.
Moody's cut the country's foreign debt to Baa3 - the lowest investment grade - from Baa2, and warned it could cut the rating further.
Tunisia's bond markets have been falling and the stock exchange is closed for a third day.
The country was thrown into instability after the ousting of its leader Zine al-Abidine Ben Ali.
"The current uncertainties about the economic and political consequences of the collapse of Tunisia's previous political regime are the main drivers for the decision to downgrade the government's bond ratings by one notch and assign a negative outlook," said Aurelien Mali from Moody's.
"Moody's will closely monitor Tunisia's political risk and stability over the next few months, as a further outburst of violence and disorder could exert added negative pressure on the economy," he said.
Moody's says risks were limited in terms of Tunisia's debt payments.
"More importantly, Moody's expects the country to receive some form of external assistance from abroad, if needed," Moody's said.