Goldman Sachs profits down by half on weak debt trading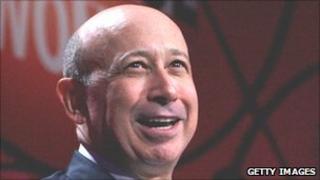 Wall Street firm Goldman Sachs has reported net income of $2.39bn (£1.49bn) for the fourth quarter of 2010, down 52% from a year ago.
The poor result was expected, following weak numbers from Citigroup on Tuesday.
As at Citigroup, the investment bank's performance was dragged down by weak business at its bonds, currency and commodities trading division.
Total profits for the year as a whole were $8.4bn, down 38% on 2009. Yet total pay was down a mere 5%.
The Wall Street firm paid out $15.4bn in "compensation and benefits" according to its financial statement.
This was considerably more than the net earnings left over for the broker-dealer's shareholders.
The figures mean that average pay per employee works out at $431,000, although the company's top earners are likely to be paid several times this amount.
In total, the company awarded 39% of its $39bn net revenues for the year to its employees, leaving only a 21% share attributable to shareholders as net earnings.
'Low client activity'
The fourth quarter figures rounded off a year that has become progressively more difficult for Goldman.
At $3.79, earnings per share for the last three months slightly beat analysts' expectations of $3.76.
However, net revenues - a better measure of overall business levels - undershot expectations, down 10% from a year ago at $8.64bn, versus an expected $9bn.
"Looking ahead, we are seeing signs of growth and more economic activity," said chairman and chief executive, Lloyd Blankfein.
The company's share price dropped 2.7% in early trading on the New York Stock Exchange.
"It's confirming that [the fourth quarter] was difficult," said Simon Maughan, analyst at MF Global in London. "If Goldman Sachs can't show a strong performance, then good luck to anyone else trying to."
However, Mr Maughan dismissed the relevance of the last three months of the year - which comes as traders tend to wind down activity ahead of the year-end - as a performance indicator.
"The outlook has already improved from what is turning out to be a miserable quarter," he said.
Trading woes
Business at the company's fixed income, currencies and commodities group - which deals in bonds and credit derivatives among other things - was particularly lacklustre.
It reported net revenues down 48% on a year earlier, following a similarly dismal third quarter for Goldman Sachs profit down by halfthe group.
Goldman blamed "low client activity levels" for the poor performance.
The firm blamed the same reason for a 10% fall in net revenues at its "investment banking" wing, which provides financial advice on mergers and acquisitions, and arranges new bond and share issues for clients.
"Trading for their own account and investment banking are a big piece of what they do," said Malcolm Polley, chief investment officer at Stewart Capital Advisors in Pennsylvania.
He added that Goldman made most of its money buying and selling for its own account.
One factor likely to have hurt the firm's fixed income business was a sharp and sudden drop in the value of US government bonds in December.
The sell-off reflected growing expectations that the Federal Reserve will succeed in raising the near-zero inflation rate in the US.
But as markets demanded a higher return from government bonds to compensate for higher inflation, this also fed into a sudden increase in the cost of borrowing for Goldman Sachs and its clients.