Inflation 'biggest money worry for families'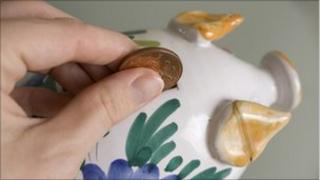 The rising cost of essential items is the biggest concern for families facing stretched finances, according to a survey.
More than half of those asked said that the higher price of necessities was among their greatest concerns in the near future and in the next five years.
The poll by Aviva comes the day after official figures showed UK inflation jumped to 3.7% in December.
This was the highest rate for eight months, driven by food and fuel prices
Rate pressure
The threat of redundancy and unexpected expenses were the other key areas of concern for families, according to the Aviva report.
An estimated two-thirds of UK families own their own home, yet only 13% of those asked expected rising mortgage rates to affect their budget.
This came despite increased pressure for interest rates to rise following Tuesday's inflation announcement, and signs of a slight increase in rates being charged by mortgage lenders in recent weeks.
The study found that many families were ill-equipped to handle a rise in outgoings, with 33% having no savings to fall back on and 40% not currently setting aside anything on a monthly basis.
Those who did save had a relatively small amount set aside, the quarterly poll of 2,000 people found.
Single parent families were most likely to struggle in the squeeze, with 60% having no savings and 62% not managing to save anything each month.
"This report gives us an interesting insight into the financial issues facing modern families in the UK," said Louise Colley, of Aviva.
"Not surprisingly, in today's society, some families are struggling to make ends meet and 39% feel they cannot take on any additional financial obligations."