Cargill to split off Mosaic fertiliser business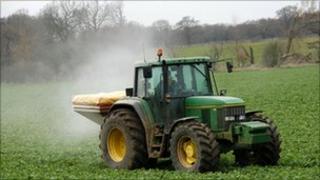 US agricultural giant Cargill is to spin off its Mosaic fertiliser business to stakeholders, in a deal worth $24bn.
It opens the way to a possible takeover bid for Mosaic, which operates in the same area as Canada's Potash, which BHP Billiton failed to buy last year.
The deal will help keep Cargill - one of the 10 biggest US companies by revenues - in private family ownership.
Cargill's shareholders and lenders will receive the Mosaic stock in return for the Cargill shares and debts they own.
Major asset
The enormous, but little-known, US soft commodities giant, which was founded in 1865, employs 131,000 people in 66 countries and had revenues of $108bn last year.
It currently owns 64% of Mosaic, which is also listed on the New York and Frankfurt stock exchanges.
The subsidiary was formed in 2004 from the merger of Cargill's in-house fertiliser business with rival IMC Global, and is a leading global provider of crop nutrients and feed ingredients.
Since then, its share price has risen six-fold thanks to the boom in food prices, as well as merger and acquisition activities - notably mining company BHP's bid for Potash, which was blocked last year by the Canadian authorities.
However, following news of the spin-off deal, the company's share price dropped 6% as investors priced in a much bigger supply of freely-tradable shares.
Mosaic is a major asset of Cargill - which also operates in crop growing, bio-fuels, commodities trading and food products - and drove the company's recent spectacular profits growth.
Cargill reported net earnings of $1.49bn in three months to November, more than tripling the $489m it made in the same period a year earlier.
But without Mosaic's contribution, those numbers would have been only $832m and $420m respectively.
Shareholder pressure
Of the 286 million shares being distributed, about 157 million will be sold on in a secondary offering within 15 months, according to a joint statement by the two companies, meaning they will become available for a third party to buy up.
The other Mosaic shares will have to be retained by their new owners for a minimum of two-and-a-half years.
The deal will satisfy Cargill shareholders who had been putting pressure on the company to float itself on the stock market in order to help them dispose of their stakes.
The shareholders participating in the deal are mainly charitable trusts who inherited the estate of Margaret Cargill, one of the firm's biggest family owners who died in 2006.
It will also help Cargill reduce its indebtedness, by offering 107 million of the Mosaic shares to its lenders in redemption of existing debts.
The transaction is expected to go through in the second quarter of the year, but first needs to be approved by a majority of the Cargill shareholders not participating in the exchange.