William Hill revenue boosted by online betting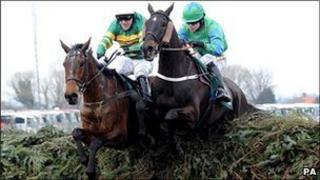 Bookmaker William Hill has said its annual operating profits are set to be at the top end of forecasts.
Its comments came as it reported strong revenue growth in the final three months of 2010, in part thanks to a big jump in online business.
Online revenue grew by a quarter compared with a year earlier, while retail revenue rose by 8% despite the bad weather over the Christmas period.
William Hill shares were among the stock market's best performers, up 7%.
The bookmaker said full-year operating profits would be about £275m, up from £258.6m in 2009.
"This is strong performance and I am delighted that, in particular, our online business and the gaming machines in our shops continue to see encouraging revenue growth during [the period]," said the group's chief executive Ralph Topping.
"Our continual technological developments in what is a fast-changing industry have underpinned growth."
The group also said it would now be closing its telephone business in the UK in February, having previously said it would do so in the fourth quarter of 2010.
In June last year, William Hill announced it would be establishing a new telephone betting operation offshore in Gibraltar.
Firms based offshore do not have to pay the Horseracing Betting Levy, which UK-based bookies have to pay in order to take bets on British races.
William Hill has more than 2,300 licensed betting offices in the UK and Irish Republic.