Swiss banker linked to Wikileaks on trial over secrecy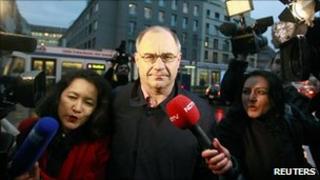 A former Swiss banker has gone on trial in Zurich accused of breaching banking secrecy and extorting money.
Rudolf Elmer, who headed Julius Baer's office in the Cayman Islands, admitted passing on data and sending threatening letters to his former employer.
Mr Elmer argues he did not breach Swiss banking laws, as the leaked documents referred to accounts in the Caymans.
On Monday, he gave Wikileaks website bank account details of more firms and individuals he said were evading taxes.
The founder of Wikileaks, Julian Assange, has said he will publish that information within weeks, once it has been checked.
The trial relates to the previous data disclosures that the banker made.
'Extreme situation'
During the one-day hearing in Zurich on Wednesday, Mr Elmer alleged that his former employer had him followed and that he felt desperate, our correspondent says.
"We were under surveillance," he said. "The situation was very threatening. We were very scared and I thought the bank was behind it."
He said this is why he sent the bank emails in 2005 threatening to pass the offshore bank account details of Julius Baer clients onto tax authorities in Switzerland, the US and the UK, as well as to the media.
"I was in an extreme situation," said the former banker. "It's logical that I developed a defence strategy."
Mr Elmer later carried out his threat, and prosecutors claim that, as a result, tax authorities have taken action against at least one of the bank's clients for tax evasion.
He told the court that he had leaked clients' data because he felt morally bound to expose what he claimed was tax evasion.
Mr Elmer has claimed that banks and international authorities failed to help him show how tax avoidance by the wealthy affects welfare payments.
The data was also passed on by Mr Elmer to Wikileaks in 2007, helping to raise the profile of the whistle-blowing website.
That led to legal action by Julius Baer in the US that succeeded in shutting down Wikileak's website for two weeks in 2008.
Lie detector
Mr Elmer, a certified auditor, worked as Julius Baer's chief operating officer in the Cayman Islands until he was sacked in 2002.
It emerged in court that his dismissal came after Mr Elmer refused his employer's request to submit to a lie detector test.
The banker claimed that the bank's activities were immoral, and even criminal.
"The more I rose professionally at Julius Baer, the more I became involved in illegal activities that were required of me," he said.
Julius Baer says he waged a "personal intimidation campaign and vendetta" and sought to discredit the bank and its customers after it refused his demands for financial compensation following his dismissal.
Among prosecutors' other accusations against Mr Elmer, which he contests, are that he:
sent an email in 2004 offering to hand over data in return for 50,000 Swiss francs
sent threatening faxes to Julius Baer employees
caused a hoax bomb alert at the bank
threatened to send data to Neo-Nazi and other anti-capitalist organisations
Other bizarre details to emerge include claims that Mr Elmer pretended at times to be a member of a Mexican drugs cartel, and went by the pseudonym "Robin Hood".
Bribery
Mr Elmer accuses the bank of persecuting him and his family, and of offering to pay him 500,000 francs not to expose a widespread system of tax evasion by rich business people and politicians.
The 55-year-old refused to answer questions in court about whether he was divorcing his wife, and whether he was 50,000 francs in debt.
He has admitted breaking some laws, but claims he did not breach Swiss banking secrecy rules because all of the information related to the Cayman Islands and therefore lay outside Swiss jurisdiction.
The hearing is expected to last only one day. Prosecutors have asked for Mr Elmer to be sentenced to eight months in jail and fined 2,000 Swiss francs (£1,300; $2,080).
Switzerland's banking secrecy has come under heavy criticism in recent years. It has been forced to hand over details of 4,450 bank accounts to the US as part of a deal to settle an investigation into clients of UBS.
Whistleblowers have not had an easy ride - Bradley Birkenfeld, who exposed the offshore accounts of rich American clients of UBS, was sentenced to 40 months in jail in Pennsylvania because of his role in facilitating the tax evasion.