IPPR think-tank predicts 'double-dip' jobless rise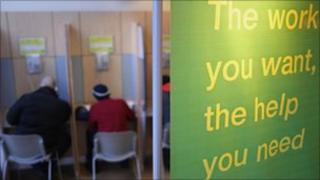 The Institute of Public Policy Research has warned that the UK faces a double-dip in employment, with the jobless level rising during 2011.
The strength of job creation last year surprised analysts, but there are worries unemployment is picking up.
An economic double-dip is unlikely, but an employment double-dip is "a real prospect", the think-tank said.
Latest jobless data to be published on Wednesday will be closely watched to see the impact of public sector cuts.
A double dip is a recession that is followed by an emergence into a short period of growth which is then followed by a swift fall back into recession.
Tony Dolphin, IPPR chief economist, said: "History suggests the UK economy needs to grow at an annual rate of more than 2% if unemployment is to fall.
"There is a real risk that growth will not be fast enough during 2011, and that unemployment will reach new highs for this economic downturn.
"While the prospect of a double dip into negative growth has receded, a double dip in employment is a real prospect," Mr Dolphin said.
Last month the Office for National Statistics said that unemployment in the UK increased by 35,000 in the three months to October to 2.5 million.
The surprise rise was driven by public sector job losses, and pushed the unemployment rate to 7.9%.
Jobless peak
However, the number of people claiming Jobseeker's Allowance in November fell fractionally, by 1,200 to 1.46 million, the ONS said.
Wednesday's latest ONS figures are expected to show that the rate held steady at 7.9%, according to a poll of economists conducted by the Reuters news agency.
However, the poll sees unemployment peaking at 8.1% in the second half of 2011, with the economy growing at about 1.9%.
Unless the private sector can increase job creation strongly, unemployment will rise even if the economy continues to expand, the IPPR says.