Bank of Canada leaves interest rate unchanged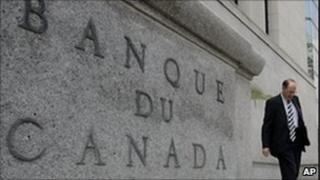 The Bank of Canada has left its key overnight lending rate unchanged at 1% and has said future increases would have to be "carefully considered".
The global economic recovery is proceeding at a "somewhat faster face" than it anticipated, the bank said.
Canada became the first of the leading Group of Seven nations to move rates higher since the economic crisis when it increased rates to 0.5% in June.
The bank projects the economy will expand by 2.4% in 2011.
Any further reduction in monetary policy stimulus would need to be "carefully considered" because the recovery was threatened by a strong currency and Europe's fiscal crisis, the bank said in a statement.
The bank said that though growth in the US and Europe had been stronger, sovereign debt issues were a source of uncertainty and would limit the pace of recovery of European countries.
Canada's economy was less badly hit than other G7 members because it did not have a sub-prime crisis.