Boeing delays 787 Dreamliner delivery date again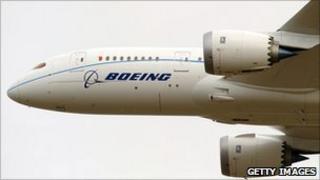 Boeing has postponed the delivery date for the first of its new 787 Dreamliners again, this time until the third quarter of 2011.
The latest delay comes after an onboard fire forced the company to halt test flights in November.
The US firm said its new scheduled gave it time "to produce, install and test updated software and new electrical power distribution panels".
The plane has been plagued by problems and is already three years overdue.
Prior to the latest announcement, the first delivery - to All Nippon Airways of Japan - had been scheduled to happen next month.
"This revised timeline for first delivery accommodates the work we believe remains to be done to complete testing and certification of the 787," said Scott Fancher, general manager of the 787 programme, in a company statement.
The aerospace company has been gradually returning planes to its test programme after extensive ground-testing.
Reputation
"The positive element is that Boeing has less than 800 flight test hours to complete a range of certification tasks," said independent airline analyst Saj Ahmad.
"The three years of delays have proved costly as they have embarrassment for the company, but with most of the flight test program under their belt, this is probably the first time since the 787s first flight that Boeing can say with confidence that it can make this new revised delivery schedule."
When the Dreamliner project began, Boeing had originally pencilled in the first delivery for May 2008.
Boeing said it did not expect the delay to affect its 2010 full-year results.
The news had been widely anticipated by markets, and the company's share price rose slightly at the start of New York trading following the announcement.
However, the problems with the Dreamliner have damaged the company's reputation.
In November, following the test flight suspension, the Qatar Airways head Akbar Al Baker said the company had "very clearly failed" with the new plane.
In 2010, arch rival Airbus reported more plane orders and deliveries than Boeing.