Vijay Mallya says F1 and IPL teams are not a hobby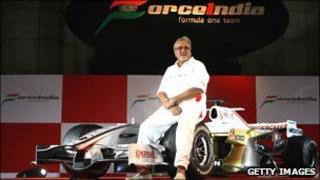 Indian billionaire entrepreneur Vijay Mallya has said he does not consider his Formula One and Indian Premier League teams to be costly pastimes.
As well as his drinks and airline companies, he also owns the F1 team Force India and the IPL team Royal Challengers Bangalore.
"It is certainly not a hobby," he says, seeing F1 and IPL as major businesses.
Mr Mallya has been in the UK to hand over a case of whisky from Ernest Shackleton's 1907 Antarctic expedition.
It will be analysed at the Mackinlay distillery in the Scottish Highlands, which is now owned by Mr Mallya's Whyte & Mackay company.
'Value proposition'
"F1 and cricket are part and parcel of our business tools for promotion, and are sports in which, not only I am interested, but in which India is hugely interested," he says.
"You can't say that [sport team ownership] takes the focus away from the businesses that produce the cash."
Mr Mallya is chairman of the United Breweries Group and Kingfisher Airlines, with the carrier named after the brewer's main beer brand, Kingfisher.
And he is convinced that his sports teams are providing value for money.
"Why do you think I paid $112m (£70m) for the Royal Challengers cricket team?" he says.
And he points out that Sahara Group, which recently bought the Grosvenor House Hotel, had to pay $370m last year to secure the new Pune franchise for IPL4 this year.
"It is certainly not a hobby. There is a huge value proposition because we get to share in all the television revenues, and all other forms of income generated by the Indian Premier League, and there is a very sound economic model there," he told BBC Scotland.
Sporting 'religion'
And he dismisses fears that the upward trajectory in IPL revenues is leading to a bubble that could burst.
"In India... cricket is almost like a religion. You then have the young demographic, new consumers coming into my industry, who are going to turn 21, coming of legal drinking age.
"The same people are going to watch cricket, are going to enter the consumer sector of India, and advertisers are going to look at that ever-increasing consumer sector.
"They are going to spend more on TV revenues, and a large part - 80% - of Indian TV revenues probably goes into cricket.
"So this is no bubble, this is very sustainable."
'Technically competitive'
This year's IPL season gets under way on 8 April, a month after the F1 season begins.
The Force India team came into being in October 2007 when a consortium led by Mr Mallya and Michiel Mol bought the Spyker F1 team for 88m euros (£74m; $118m).
And Mr Mallya, whose Kingfisher beer brand is the team's main sponsor, is under no illusions about the challenge facing his team during the 2011 season.
"F1 is perhaps the most technically competitive sport in the world. You are no longer fighting for half a second, you are fighting for one-hundredth of a second," he says.
"It has become a lot more competitive so it is very difficult to move up the ladder quickly.
"I am proud that the Force India F1 team. From the end of 2007, when I bought the team, to today it has come a long way."
Indian Grand Prix
He said that although the team was scoring points regularly, it should aim for some podium finishes in 2011.
"I'd love to be on the podium in the inaugural Indian Grand Prix," he adds, referring to the race at Greater Noida, Uttar Pradesh, on 30 October.
Meanwhile, he says Force India is poised to name its driving team for 2011 "in the next few days".
"There are some legal loose ends to be tied up," he says.