Jordan acts to pre-empt public discontent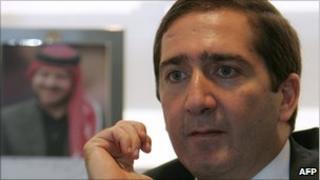 Jordan has announced an economic package to aid the country's poor and mitigate the tide of popular discontent.
The $230m (£144m) package aims to reduce the price of commodities and create jobs.
Jordan's King Abdullah II said that basic goods should be available at the lowest possible prices for his citizens.
The move to cut prices for essential consumer items comes after the deadly riots in Tunisia which resulted in president Ben Ali fleeing the country and his government being dissolved.
There has been a similar series of protests in neighbouring Algeria and, to a lesser extent, in Egypt.
In several countries of the Middle East and North Africa, youthful and rapidly growing populations face rising food prices, high unemployment and a lack of political representation.
The popular Jordanian activist Mohammad Sneid called for street protests and was supported by several left-leaning labour and tribal opposition groups.
Jordan has a high unemployment rate and poverty among its population of six million - with the majority of those being under 25 years-old.
Reversing the trend
When prime minister Samir Rifai took office in November 2009 he initiated economic reforms which led to the easing of subsidies on basic commodities.
The former CEO of Jordan Dubai Capital was ideally placed to run a tight fiscal ship, although there have been mixed feelings about his appointment because his father was a former prime minister and many critics do not like his connections with business and the security forces.
Mr Rifai has been keen to end the country's reliance on foreign donations, particularly from the Gulf states.
He subsequently allowed fuel prices to rise as part of free-market reforms, so they reflected the market value regardless of its volatility.
The latest announcement sees a reversal of those moves, which will include 6% off fuel, gasoline, and kerosene prices, and a subsidy of around $28m to the country's cooperative stores to help reduce the prices of basic commodities.
He added that another $28m will be allocated to fight poverty and set up development projects in underprivileged areas, including the creation of government jobs in several ministries such as health, education and development zones.
"The measures are aimed to help minimize the impact of economic problems on Jordanians in light of soaring international prices," deputy prime minister Ayman Safadi said in a news conference.
'Importing inflation'
In a live radio interview, Mr Rifai said that the government will continue with procedures to further mitigate the burdens on citizens, but warned against populist policies that will be paid for by future generations.
He reiterated that there will be no new taxes this year.
With a 3.5% growth in the gross domestic product (GDP) in 2010, many people consider his policies have been working.
The prime minister acknowledged however, that the Kingdom is witnessing economic difficulties and inflation that reflect the current global crisis, as it has to: "Import oil and food along with inflation."
"We are a country that has been adopting a market economy for decades," he said.
"There is no government that doesn't want to raise salaries and provide job opportunities for all Jordanians, but the main problem lies in finding enough money to finance all that," he said.
Asked how the government secured the funds for the economic relief package, Mr Rifai stressed that the budget is transparent and has no "hidden funds". The package is a result of a reshuffling in the budget's priorities, he explained.
Peaceful protests
David Butter at the Economist Intelligence Unit believes the country is well-placed to weather the current financial climate.
"Jordan has always punched above its weight," he says, "through special trade deals and by being a conduit for getting goods into Iraq."
He explains that the country will always have a degree of dependence but, while the economies of the Gulf States are progressing, there will always be a market for the goods and services that Jordan offers and there will be job opportunities in the Gulf which enables people to send remittances home.
All governments in the region are looking cautiously at the events which have happened in Tunisia and Algeria over recent weeks, but Mr Butter does not believe the situation in Jordan will reach such dramatic heights.
"There have often been protests against various issues," he says, "but opposition is fragmented."
Apart from rising food prices and unemployment, Jordan has to contend with tribal issues and the Islamic Action Front is torn apart by splits.
"The country is not entirely homogenous so if there was an uprising, it would very very divisive," Mr Butter asserts.
Jordan is run by a royal family and some sections of society are loyal to the monarchy. King Abdullah himself appears so far to have escaped most of the wrath of the protesters.
So far, protests in the country have been peaceful and there have been no arrests.