Barclays' £60m compensation bill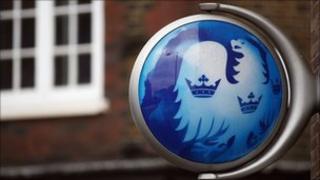 Thousands of people investing their retirement savings were given poor advice by Barclays, which must now pay millions of pounds in compensation.
The bank has been fined £7.7m by the Financial Services Authority and will pay up to £60m compensation to customers of two investment funds.
One in seven of the 12,000 investors complained about the advice received from July 2006 to November 2008.
Barclays accepted it had "let customers down" and has apologised.
Risk levels
Barclays sold Aviva's Global Balanced Income Fund - the Balanced Fund - and the Global Cautious Income Fund - the Cautious Fund - to 12,331 people with investments totalling £692m.
Many of these customers were retired or nearing retirement, and 1,730 of them complained about the advice they were given.
Many were exposed to more risk than they were comfortable with, and found they lost money when the economic crisis struck.
In July, the BBC's Money Watch programme spoke to one of the customers who complained.
Sue Murton, from Aldeburgh, wanted to boost returns from her savings because she was receiving poor interest rates that meant the value of her money was shrinking against inflation.
She was looking for a "cautious-to-medium" risk investment and was advised by Barclays to put £50,000 into the "Balanced Fund", believing it to be matched to her relative unwillingness to take big risks. However, within months, she had lost £17,000. She later received compensation for the full amount.
Delayed action
Although Barclays identified potentially unsuitable sales as early as June 2008, it failed to take appropriate action to stop it, the Financial Services Authority (FSA) found.
"Thousands of investors, many of whom were seeking to invest their retirement savings, have suffered. To compound matters, Barclays failed to take effective action when it detected the failings at an early stage," said Margaret Cole, from the City watchdog.
"Because of this, and given Barclays' position as one of the UK's major retail banks, we view these breaches as particularly serious and fully deserving of what is a very substantial fine."
Barclays has already paid £17m in compensation and the FSA has estimated that a further £42m could be paid to customers who received unsuitable advice.
Richard Park, director at Parkhouse Financial, which represented many of the complainants to the financial services ombudsman, told BBC Radio 5 live that some people aged in their 80s and 90s put their entire life savings into these funds.
They had seen the funds lose 40% to 50% of their value, he said. Although, for those who remained as investors, these funds had recovered somewhat.
Response
Paul McNamara, managing director of insurance and investments at Barclays, said: "We know that on this occasion we let our customers down and did not do all we could have done to meet the high standards that our customers expect from us and for this we are sorry.
"In relation to these two particular investment products, we failed to give adequate information to some of our customers to help them make the right decision about how to invest their money."
He added that changes had been made as a result of the case.
"We stopped selling these investment products two years ago and since then we have been working hard to ensure this does not happen again," he said.
"We have reviewed and made improvements to our sales and advice processes, including the documentation provided to customers, and the level of supervision over advisers. We have also strengthened the training we provide our advisers."