Will pay catch up with prices in 2011?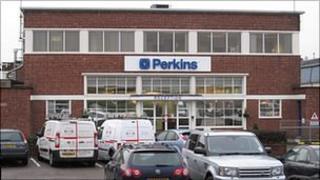 From early this morning, some of the shop-floor staff at the huge Perkins engine factory in Stafford will stage their fifth one-day strike, in an attempt to break the second year of a pay freeze.
Their factory stayed very profitable through the recession and, as some of them told me as they started an early morning shift, they are fed up with prices rising as their pay stays the same.
"It's just everything," said one man, who like his colleagues did not wish to be named.
"You go to the shops and a loaf of bread is £1.25 then the next week it is £1.35 - everybody's just had enough."
I asked his colleague if he had really noticed everyday prices rising.
"Oh yeah - petrol, everything is going up," he replied.
Another Perkins employee pointed the finger at energy companies.
"Prices are rising constantly - utilities and everything else," he said.
Strikes
As the inflation rate has continued to shoot up, the past couple of months have seen a number of other industrial disputes over attempts to impose pay freezes, or keep them in place.
One has involved staff at the GlaxoSmithKline Ribena factory in Coleford in Gloucestershire.
Another has involved journalists employed by regional newspapers such as the Southern daily Echo, owned by the Newsquest/Gannet group.
Colin Griffiths, a full time official for the GMB trade union in Stafford, says other workers he represents may soon be in the same situation.
"In 2011, 2012, I think we will see unrest," he warns.
"I have just balloted for industrial action at Adams Foods in Leek - they have offered just 1% on pay.
"People are tired of the constant pressure on wages, pensions and conditions," he adds.
Pay freezes over?
Perkins Engines, part of the Caterpillar group, says the economic circumstances remain "challenging."
Instead of abandoning its two-year pay freeze, it has announced a £2,000 bonus payable in March, and has brought forward its annual pay award from September to June, with a 4% rise on the table.
That is not enough to satisfy the striking staff at Perkins Engines.
They complain that the second year of their pay freeze was imposed on them just as inflation began to take off, leaving them out of pocket before the 2011 pay deal comes around.
Elsewhere in the private sector there are signs that now that the economy is picking up, and under pressure from workers feeling the pinch, pay freezes in the private sector are coming to an end.
According to Incomes Data Services (IDS), a firm that provides authoritative research on pay settlements, one third of private sector pay deals in 2009 involved a freeze.
That percentage fell steadily through 2010 and hardly any private sector pay deals starting this year now feature a freeze.
"Average earnings in the private sector are now rising at an annual rate of 4%," says Alastair Hatchett at IDS.
Public sector
However while pay freezes in the private sector have been easing off, they are now being imposed in the public sector.
The new Chancellor George Osborne announced a two-year freeze in his 2010 Budget, except for those earning less than £21,000 a year.
The decision affected some civil service departments in 2010, but will come into effect for others, plus the rest of the public sector such as local government, teachers and the NHS, this year.
"Pay freezes have now flipped into a public sector phenomenon," Alastair Hatchett points out.
The public sector trade union Unison believes this will undermine even further the living standards of its members, especially in local government.
"They had a pay freeze last year so that will mean three years in a row," said a Unison spokesman.
"In fact their pay has fallen below inflation in five of the last seven years.
"Low paid staff are finding it increasingly hard to pay for the basics such as heating and food," she added.