GlaxoSmithKline: £2.2bn charge over Avandia and legal case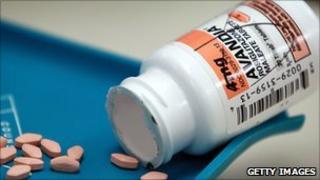 GlaxoSmithKline has set aside £2.2bn ($3.4bn) in the fourth quarter of 2010 to cover legal costs.
The charges relate to its diabetes drug Avandia, and a federal investigation into the company's sales and promotional practices for nine other products in the United States.
Avandia was banned in Europe last year while the US restricted its use because of a suspected link to heart disease.
The charge is in addition to a £1.57bn charge Glaxo announced in July.
That was to cover various legal settlements, including claims over Avandia, as well as antidepressant Paxil and an investigation into standards at a factory in Puerto Rico.
"We recognise that this is a significant charge, but we believe the approach we are taking to resolve long-standing legal matters is in the company's best interests," said PD Villarreal, senior vice president at Glaxo's global litigation team.
"We have closed out a number of major cases over the last year and we remain determined to do all we can to reduce our litigation risk."
The investigation into the promotion of nine products is conducted by the US attorney's office in Colorado, and focuses on a period of 1997 to 2004. Glaxo does not disclose which products are under investigation, but says it is with regards to so-called "off-label promotion", when a drug is promoted for a use that it has not been approved for.
The new charges are expected to more than wipe out its profit for the quarter.
Glaxo shares fell 2% after the announcement in afternoon trading in London, before closing at 1205p, down 20p or 1.63%.