Snow slowed housing market in December, Rics says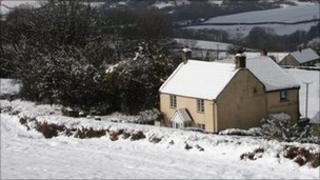 Heavy snowfall during December led to "lacklustre" activity levels in the UK housing market, according to surveyors.
New buyer enquiries fell during the month, and new instructions from sellers stood at its lowest level for 18 months, the Royal Institution of Chartered Surveyors (Rics) said.
Unease over the economy and a lack of mortgage availability continued to dampen demand, it said.
But surveyors expected the housing market to pick up during the spring.
"Although bad weather hit the housing market during December sales levels have remained stable," said Jeremy Leaf, Rics spokesman.
"While lack of supply, and more importantly demand continues to impact heavily, surveyor sentiment does appear more positive for the coming months.
"The key issue now is mortgage finance. However, with commentators suggesting lending constraints are unlikely to be eased, it is hard to envisage a meaningful increase in sales levels in the near term."
Prices
Some 39% more surveyors reported house price falls than gains in December, although the proportion was slightly greater (44%) in November.
Surveyors expected sales to pick up slightly in the coming months.
A greater proportion of surveyors expected prices to fall than to rise in the coming months, the survey found.
Some 272 estate agents in the UK, who are members of Rics, were polled in the survey which reflects confidence in the property market rather than what is actually happening to house prices.
A poll by the National Association of Estate Agents suggested its members had seen a "jump start" in interest among buyers and sellers at the start of 2011.
But housebuilder Taylor Wimpey, the UK's second largest housebuilder, said that it was expecting constrained mortgage lending to continue to hold the property market back in 2011.
National picture
The government's own house price measure, which lags behind other surveys, showed that UK house prices were 4% higher in November than they were a year earlier, by 0.1% lower than in October 2010.
The three-month on three-month comparison showed that prices were 0.6% lower in November, with the average UK home valued at £208,585, the Department for Communities and Local Government (DCLG) said.
Average prices increased by 4.7% during the year in England and were up by 3% in Wales, the DCLG said.
However, they were 11.3% lower in Northern Ireland and down 2.4% in Scotland.