Smiths Group shares up on bid rejection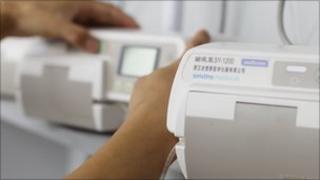 Shares in Smiths Group have jumped 7.7% after the engineering and technology company rejected a takeover bid for its medical services unit.
The group said in a statement on Friday that it had rejected a cash offer of £2.45bn for Smiths Medical.
The board said it would not be in the interests of shareholders to pursue discussions at that price level.
Smiths did not say who the offer was from but media reports named the bidder as private equity firm Apax Partners.
Shares in Smiths Group were up 8.4% at one stage, and ended the day up 7.7%, or 99p, at 1381p.
The rise in its share price suggests that investors believe a higher offer - whether from Apax or another bidder - will be made for the medical unit.
Smiths Group provides products and services to various industries worldwide including security, energy and communications, as well as to the healthcare sector.
Smiths Medical manufactures products in Mexico, the US and UK, Italy, Germany and China, and sells specialist equipment and devices to more than 120 countries around the world.
Meanwhile, shares in artificial knee and hip maker Smith & Nephew rose 4% to 713.5p after a weekend report said Johnson & Johnson was considering a fresh takeover approach worth at least 800p a share.
On Friday, Smith & Nephew had denied that it was involved in any takeover discussions.