Credit cards and loans to 'rise in cost'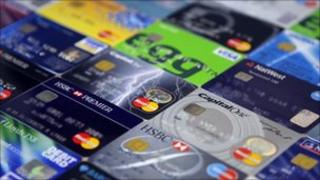 Families may have to pay hundreds of pounds more to cover the cost of credit card bills and loans, an accountancy firm has predicted.
Interest rates on unsecured debt will rise by 2%-3% in the coming three years, PricewaterhouseCoopers believes.
This would add £1,800 a year by 2015 to the typical household's credit card and loan bills, it said.
Bank of England figures suggest that many people have been paying off unsecured debts in the last year.
Awareness
Lenders were facing rising costs owing to regulations that mean banks need to hold more capital, as well as the continued shortage in liquidity, PricewaterhouseCoopers (PwC) said.
These businesses are also likely to be more cautious about who they were lending money to.
As a result, consumers might turn to different types of loans if they find themselves blocked from mainstream lenders. Customers needed to be aware of the terms and conditions of such loans, said PwC partner Richard Thompson.
"There is strong evidence that the type of credit demanded by consumers is changing," he said.
"Point of sale finance products, payday loans, home credit providers and pawnbrokers will all play their part in providing for these kinds of consumers, but the cost of credit needs simpler explanation for consumers.
"A great deal of progress has been made by lenders in improving the transparency of products, but consumers themselves need to ensure they understand what they are signing up for."
Credit file
Meanwhile, the Information Commissioner's Office (ICO) has urged UK residents to ensure that their credit reference file is accurate and up to date.
Under the Data Protection Act everyone has the right to obtain and protect the information financial institutions hold about them.
If the content of an individual's credit file is inaccurate then he or she can ask for it to be corrected, which could in turn stop lenders from turning down their requests for credit.
"In these challenging times, millions of people will be applying for credit and the last thing they need is to be turned down because of inaccurate information on their file," said David Smith, deputy commissioner at the ICO.