Airbus beats Boeing in 2010 plane orders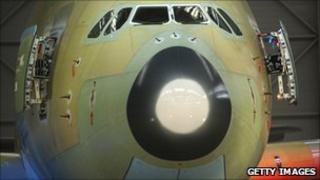 A late rush of orders helped European aircraft-maker Airbus to record higher sales than US rival Boeing in 2010.
Airbus said it had received 644 new orders last year, worth $84bn at their full list price - with 200 of them placed in December.
That was enough to push Boeing into second place with 625 plane orders.
The news came as Virgin America confirmed 60 new A320 orders, half of which will be in the new eco-friendly "Neo" format.
Industry recovery
Airbus sales head John Leahy said: "Aviation is growing again because of Asia, low-cost carriers and emerging markets."
Earlier this month, European budget airline Easyjet cemented its relationship with the European manufacturer with 15 new A320 orders.
After allowing for cancellations of existing orders, Airbus - with 574 net new orders and a 52% market share in 2010 - still beat Boeing, which received 530 net orders.
But both firms saw their number of orders approximately double from last year, as airlines showed increasing confidence that the recession was behind them.
"The figures show the economy is improving," added Mr Leahy. "The only negative on the horizon is the fuel price."
Airbus also maintained its eight-year lead over Boeing in the number of deliveries of finished planes.
The firm reported 510 deliveries for the year, up 12% from 2009, and is targeting 520-530 more deliveries this year.
That compares with 462 for Boeing, which was down 4% on 2009.
Fuel efficiency
There was more good news for Airbus as Virgin America delivered the European manufacturer's 10,000th order after it confirmed plans - first revealed at last year's Farnborough International Airshow - to purchase 60 new A320 planes.
The deal includes the first commercial orders for the A320neo, launched last year, which has been designed to increase fuel efficiency by 15%, thereby lowering operating costs and reducing carbon emissions.
The planes, which will be delivered to Virgin America from 2016, also reduce engine noise and increase the A320's range by 500 nautical miles.
The 60 new orders will help Virgin America more than triple its fleet of A320s to 111 planes by 2019.
"We credit a great deal of our success to date to having the right aircraft," said Virgin America's president and chief executive, David Cush.
The company was set up three years ago to crack the US domestic market.
Richard Branson's Virgin Group holds only a minority stake in it, due to a US requirement that 75% of domestic carriers must be owned by US citizens.