Consumers count the cost of poor exchange rates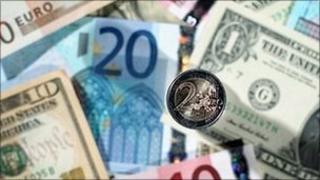 Customers of some low budget airlines are paying more for their flights because of the poor exchange rates applied to their transactions.
Some credit card providers have also stopped using standard Visa and Mastercard rates and introduced their own poorer rates.
The difference in exchange rates can add between 2 and 6% to the cost of a transaction.
The airlines and the banks insist their rates are fair.
Dynamic currency conversion
A number of airlines, including Ryanair and Easyjet, price single flights from European destinations to UK airports in Euros rather than sterling.
But when it comes to making a payment, the companies convert the transaction into sterling at their own rates, unless the customer chooses to opt out.
Most banks use either the daily Visa or Mastercard rate when converting a payment in currency. The rate is competitive because of the number of people using it, but is only applied when the transaction is processed, which may not be the day a purchase was made.
Ryanair and Easyjet apply a dynamic currency conversion which guarantees a rate at the time of booking. Unfortunately that rate can be much worse than the Visa rate. Yesterday a flight costing 100 euros would cost £89 using Ryanair's rate but only £84 using Visa's rate.
Opting-out
Ryanair allows customers to opt out of using its rate and to use their own bank's rate instead. However it advises customers that "the rate you receive from your bank is not guaranteed, and is subject to daily fluctuations, which could result in a significantly higher cost to you."
When asked how many days its exchange rate was better than the VISA and Mastercard rate in 2010, Ryanair said it did not keep track of rates.
"Obviously the golden rule is never to accept the rate and to always pay in the local currency because you'll be better off," said Bob Atkinson, travel expert from Moneysupermarket.com told BBC Radio 4's Money Box programme.
Inferior rate
Easyjet also initially prices flights from European destinations in Euros, but customers can choose an alternative price in sterling.
However, the price in sterling is calculated at a lower rate. Customers benefit if they pay in Euros and allow their bank to convert the currency at a better rate.
Like Ryanair, the rate used is guaranteed, but using yesterday's rate, customers were losing out by roughly £5 on a flight costing 100 Euros.
Easyjet did not provide comment on why the rates it used were significantly lower than those of VISA or Mastercard, but said that its rates were updated on a daily basis.
Bank rates
Some banks have also started using their own exchange rates. Royal Bank of Scotland, Natwest and Tesco credit cards use RBS treasury rates, despite the fact the cards carrying the Mastercard logo.
Visa and Mastercard rates can be checked online but RBS customers can only establish what exchange rate they are receiving by ringing a call centre.
Yesterday, Money Box found the rates being offered were around 3% worse than those being offered by Visa and Mastercard.
In a statement, RBS said:
"It is important to look at credit cards in a broader context to understand their true value to a customer."
It also pointed out that its loading fee of 2.75% is lower than some rivals but Bob Atkinson said there are a range of cards that do not charge transaction fees on European purchases."
BBC Radio 4's Money Box is broadcast on Saturdays at 1200 GMT, and repeated on Sundays at 2100 GMT.