Landsbanki executives arrested in Iceland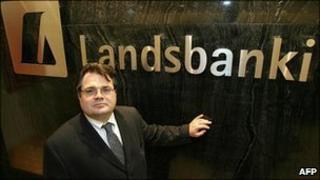 Police in Iceland have arrested the former boss of failed bank Landsbanki and another senior executive.
Former chief executive Sigurjon Arnason and Ivar Gudjonsson, ex-head of the bank's investments arm, were held on allegations of market manipulation.
Prosecutor Olafur Thor Hauksson has been investigating alleged crimes in the lead-up to Iceland's bank collapse in 2008.
He has also been probing insider trading allegations at the bank.
No cases have yet been brought to trial.
Widespread probe
A municipal court judge has remanded Mr Arnason and Mr Gudjonsson in custody until 25 January and 21 January respectively.
Landsbanki and Iceland's other main commercial banks collapsed under the weight of huge debts amassed over years of aggressive overseas expansion, bringing the country's economy to its knees.
This week Mr Hauksson said he was questioning seven former Landsbanki executives after searches were carried out at three buildings in Reykjavik.
In 2009 the ex-boss of collapsed bank Kaupthing became the first high-profile banker to be detained in connection with the investigation.