Thomson ordered to pay damages to sick Spain tourists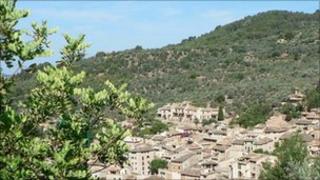 A judge has ruled that one of the UK's largest tour operators should have warned holidaymakers about an outbreak of illness at a Spanish resort.
The judge said that Thomson, which is now part of the larger European Tui group, was liable for damages.
The case involved claims of personal injury by holidaymakers who stayed at the Son Baulo Hotel in Majorca in 2003.
Thomson said it had been "criticised for not meeting a standard that was impossible to meet".
The claimants contracted either salmonella or cryptosporidium during their stays at the hotel between 7 June and 19 September 2003.
Some of them have suffered long-term health problems as a result.
The cryptosporidium bug was caught from water in the swimming pool and the salmonella from poorly prepared food.
Judge Worster at Birmingham County Court ruled that Thomson ought to have warned its guests about the outbreak at the hotel before they travelled, in order to give them an opportunity to either rebook or cancel, but had failed to do so.
The law firm representing the 49 Thomson customers, Irwin Mitchell, said that this would set an important legal precedent recognising a tour operator's duty to warn potential guests.
Faeces
Among those affected was Carrie Dickens, from East Sussex, whose 13-year-old son George was taken seriously ill during their stay at the Son Baulo and was finally diagnosed with cryptosporidium and salmonella at their local hospital in Brighton.
Ms Dickens said: "The conditions at the hotel were appalling. The toilets were filthy, the swimming pools had faeces floating in them and meat and egg dishes were undercooked."
The group came from different areas of the UK, with the majority, 20, from Cambridgeshire. Eight were from the South East, six from London, six from the West Midlands, five from the South West and four from Wales.
Thomson accepted its liability in the salmonella cases in September of last year, but argued that in the cases of cryptosporidium, it could not have done more to get rid of the illness from the resort.
'Commercial considerations'
"There are obvious and foreseeable risks for guests, particularly for children," Judge Worster said in his ruling.
"The attitude that the travel company knows best is (as this case demonstrates) misconceived.
"I formed the view that the decision was probably largely motivated by commercial considerations," he said.
Clive Garner, head of the travel law team at Irwin Mitchell, said: "What truly beggars belief is that, as the trial judge himself found, Tui knew there was an issue, knew people were falling very seriously ill, but chose to carry on sending people there knowing that there was a risk they too would end up very ill indeed."
Those affected will be told how much compensation they will be offered next month.
Thomson said: "We are very disappointed with the decision as we sincerely believe that we did everything in our power to safeguard our customers' wellbeing at the time."
The company said the real winners would be "the no-win-no-fee solicitors involved".
Clive Garner said a court case could have been avoided: "Many of our clients question why Tui UK did not agree to pay compensation years earlier, avoiding the need for legal action.
"The total sums payable would have been significantly lower had Tui accepted our repeated requests for them to admit liability and negotiate settlement of our clients cases with us. We hope that they have learned a valuable lesson. "
Tui said: "We would like to reassure all customers that their health and safety is our primary concern when travelling with us."
The company said it was considering its options for an appeal.
It went on to say that if no appeal was made it would move quickly to resolve the claims from its customers.