JP Morgan reports 47% profit jump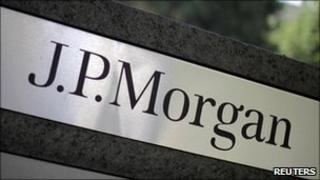 JP Morgan Chase has reported a jump in fourth-quarter net income, as it set aside less money to cover potential losses on bad loans.
Profit in the last three months of 2010 came in at $4.8bn (£3bn), marking a rise of 47% on a year earlier. Revenue increased 6% to $26.7bn.
For the full-year, the bank made a record profit of $17.4bn, ahead of analysts' forecasts of $16.7bn.
JP Morgan is the first of the big Wall Street banks to report.
"Although we continue to face challenges, there are signs of stability and growth returning to both the global capital markets and the US economy," said chief executive Jamie Dimon.
Loan-loss reserves
The company continued to benefit from fewer bad loans, making provisions of $3.04bn for credit losses, down from $8.9bn a year ago and from $3.22bn in the previous quarter.
"The loan-loss reserves are something that bugs me," said Matt McCormick, portfolio manager and banking analyst at Bahl & Gaynor.
"I would love to see a bank hit their numbers without taking from loan-loss reserves for once," he added.
Those reserves have had a positive impact on headline profit figures, so analysts suggest revenue numbers could give a clearer indication of its underlying strength.
Revenue rose in both its investment banking division and in retail financial services, but fell 18% in card services.
The bank set aside $6.6bn for staff compensation in the fourth quarter, up 29% on a year earlier.
Compensation levels
Pay and bonuses for employees in its investment bank, including between 7,000 and 8,000 based in London, more than trebled year-on-year to $1.8bn in the final three months.
This may raise fears in the UK - where the majority of concern about bank profits relates to the bonuses they pay their staff - over the size of bonuses to be paid by British banks.
The bank made no mention in its results statement of whether it would raise its dividend, although Mr Dimon has stated in the past that he would like to raise its payments to shareholders.
JP Morgan is the only major Wall Street firm to have made profits in every quarter, even in the recession.
However, like other banks, it slashed its dividend from $1.52 a share before the financial crisis to 20 cents per share now.
But Mr Dimon has previously said that it has built up a lot of "excess capital".