BSkyB News Corp bid: Ofcom calls for Competition review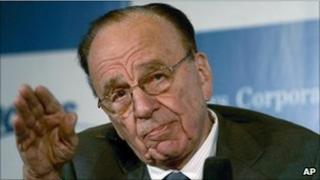 The UK media watchdog Ofcom has said that News Corporation's takeover bid for broadcaster BSkyB should be referred back to the Competition Commission, the BBC has learned.
Our business editor Robert Peston says it wants an inquiry into whether the £7.5bn deal would restrict choice for British viewers and readers.
Ofcom's report was issued to the Department for Culture Media and Sport on the last day of 2010.
It has not been formally published.
Ofcom said it would not be commenting on the report, as it remained confidential.
A spokesman for the culture department said it would not comment on "speculation".
The Business Secretary, Vince Cable, asked Ofcom to advise whether the plans would restrict the range of UK media voices.
However the prime minister passed responsibility for a final ruling to the Culture Secretary, Jeremy Hunt, after Mr Cable was recorded by undercover journalists saying he had "declared war" on News Corporation's owner, Rupert Murdoch.
Mr Murdoch's company, an international media giant which owns UK newspapers the Sun, News of the World, the Times and Sunday Times, already has a 39% stake in BSkyB, but is attempting to buy the remainder.
Rival media owners, including the heads of the Daily Telegraph and Daily Mail groups, the BBC, BT and Channel 4, complained the move could have "serious and far-reaching consequences for media plurality".
Last week The Guardian reported that Mr Hunt had been holding talks with BSkyB since receiving the Ofcom report - something our business editor said may be seen as "odd" by some.
And while Mr Hunt does have the discretion to ignore Ofcom's recommendation that a lengthier and more detailed Competition Commission probe is needed, it is unlikely he would in fact do that, he added.
The bid has already been approved by the EU, which said it would not "significantly impede" competition in Europe.