Judges to pay higher pension contributions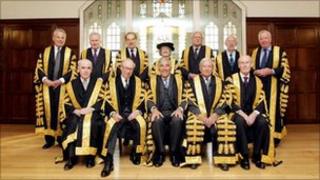 Judges in the UK have become the first public employees facing legislation that will mean they pay more for their pensions.
The Pensions Bill 2011, which started its progress through Parliament this week, changes the rules of their schemes to enable higher contributions.
How much extra they must pay is not specified, and will be up to the government.
The judicial pensions scheme is the most generous in the public sector.
It currently requires judges to pay either 1.8% or 2.4% of their salaries.
However, the current contributions go only towards funding the cost of the pensions for their wives or husbands.
The changes in the law will not mean that judges start to pay higher contributions before other public sector workers, just that the law is in place so the extra contributions can happen.
Changes ahead
Lord Hutton's preliminary report into the cost of public service pensions, published in October 2010, recommended that most public sector staff, such as civil servants, NHS staff and local government employees, should pay higher contributions.
"The government has accepted the interim recommendations of Lord Hutton's Independent Public Service Pensions Commission, including that public servants should contribute more towards their pension costs. The judiciary are no exception," said a spokesman for the Ministry of Justice (MoJ).
"We are planning to legislate to take personal contributions from members of the Judicial Pension Schemes who have not yet accrued a full pension."
Government ministers have since stated that the average increase in public sector pension contributions would probably amount to a further 3% of salary, on average, for each public employee.
A decision on this will not be made until Lord Hutton submits his final report later this year.
The MoJ explained that judges were not being singled out; rule changes to bring in employee contributions for judges simply required a change in the law first.
The bulk of the cost of their schemes is paid for out of general taxation as it, like most schemes in the public sector, is not funded by investments.
The proposed change will make them contribute towards the cost of their main pension benefits for the first time.
Generous
The judicial schemes offer a pension of half of final salary after just 20 years' service.
The accrual rate, of 1/40th of final salary per year of service, is much faster than that of other public schemes, where a pension typically builds up a rate of 1/60th or even 1/80th of final salary per year.
Currently about 2,000 judges are paying in to their schemes.
In 2009-10 there were 1,061 judicial pensioners receiving an average pension of nearly £54,000 year.
About one in six judicial pensioners receives over £67,000 a year, according to Lord Hutton's report.
The 2011 Pensions Bill also raises the state pension age for both men and women to 66 by 2020, and also puts in place the automatic enrolment of employees into either employer pension schemes or the government's new National Employment Savings Trust.