BYOC: Should employees buy their own computers?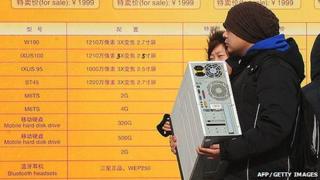 You are at work. Your computer is five years old, runs Windows XP. Your company phone has a tiny screen and doesn't know what the internet is.
Idling at home are a snazzy super-fast laptop, and your own smartphone is barred from accessing work e-mail.
There's a reason for that: IT provisioning is an expensive business.
Companies can struggle to keep up with the constant rate of technological change. The devices employees have at home and in their pockets are often far more powerful than those provided for them.
So what if you let your staff use their own equipment?
Global law firm SNR Denton is in the process of rolling out a remote access system. Information services director Neil Pamment says their old system was too limited.
"If you wanted to use more than e-mail you needed a company laptop," he says. "We wanted to have applications held in the office but accessed remotely without the need for one."
The firm has retained a few pool laptops that are available to staff, but they are encouraged to buy their own devices and access their desktop remotely from home or on the move.
"The old environment was very support heavy, so we can use our support staff to do other critical work without getting sidetracked."
Work-life balance was another driving factor, according to Mr Pamment.
"You can use it from anywhere and people like working at home in an easy fashion. One quote [from a lawyer] was 'super super impressed'."
Bill, please
In 2010, food and drinks giant Kraft announced it would provide a subsidy to staff in the US to allow them choose their own computers.
The conglomerate is just the latest business to adopt the policy. Microsoft and Intel both run "bring your own computer" (BYOC) schemes where the hardware is subsidised - as does Citrix, the company that provides SNR Denton's virtualisation capability.
The scheme launched in 2008. Citrix gives staff a stipend and they then buy the computer of their choice. Mick Hollison, vice-president of marketing, says not only has it cut costs, but staff like the control.
"Employees love having the freedom to choose whatever they like," he says.
"The reality is that there are a number of consumer devices that provide services that you just don't see in a corporate laptop, and employees just enjoy their computing experience more."
Staff taking advantage of the scheme must buy a three-year service contract.
"From that point forth the device is their responsibility, and not that of the company," adds Mr Hollison. "We don't asset manage it in any way.
"If they want to fill it full of photos and videos of their children, they're free to do so, because the connection back to Citrix is securely in the data centre.
"The device is effectively just a viewer."
Critics of the strategy have flagged security as a concern, pointing out that people may do things with their own equipment they wouldn't consider with a company laptop. Mr Hollins says they have not found this.
"One of the prerequisites is to have a standard McAfee anti-virus installed on the device. Outside of that the connectivity back to Citrix is done by our own technology which is inherently secure."
Alan McBride, IT infrastructure project manager at SNR Denton, points out that data is only held in the data centre.
"The design that we implemented was that no data or access to the device was enabled locally, so you can plug in your USB but it would not be registered when you have a Citrix connection. "
'Bring your own tablet'
Chris Knowles is head of solutions at IT services provider Dimension Data, who also provide virtualisation and BYOC services. He says cost and employee morale are just some of the benefits of a BYOC strategy.
"I can see it becoming almost the norm for mobile workers, provided that the IT department can understand how to deal with the application provision and the security of it.
"Especially as we see the uptake of virtual desktop technology, given that the data never leaves your data centre - you can't store it or save it remotely."
Mr Knowles says that companies thinking of adopting the strategy need to consider the applications that employees need on their desktops.
"You need to provide clear guidelines on what that end equipment should be capable of doing, around the security of that device and acceptable usage and protection policies for corporate data."
He says it may not be laptops that drive uptake.
"I think it's tablets that will probably drive the phase the heaviest, because the simplicity of them, the power they have, the overall portability and sheer ease of use."
Citrix's Mick Hollison agrees. "It's interesting what's taken place with the tablet market. In my estimation a lot of BYOC is going to become more like BYOT (Bring Your Own Tablet)."
Get it legaled
Before sacking half the IT department, there are other considerations for businesses considering a BYOC policy.
Graham Hann is technology partner at European IT law firm Taylor Wessing. He says companies need to remember friends and family often have access to personal laptops.
"This opens up security risks, the data on there is potentially going to be viewed by more people."
Mr Hann stresses the need for businesses to review security policies.
"A lot of it's commonsense - use of passwords, management of passwords, updating passwords, or two stage authentication.
"I think regulated businesses, such as banks, are going to take a lot longer to adopt these kind of structures."
Depending on the jurisdiction there are other issues - it could be considered an employee benefit, leading to tax implications.
In the EU consideration needs to be given to who qualifies for the scheme - excluding part-time workers could disproportionately affect women, leaving business open to claims of discrimination.
Wishful thinking?
Not everyone is convinced that dividing your IT budget between your staff is a wise move. BNet columnist Erik Sherman says the driving factor behind the strategy may have more to do with wishful thinking than reality.
"How much control does the company have? Maybe not very much. There's the risk that the employee has downloaded something, a virus at home, and then look, it's on the network.
"Why do you assume the employees are going to spend the money on the service contract just because you told them to?"
He is also sceptical about how useful those service contracts are likely to be.
"Have you ever got anything repaired through a chain store? I have - it took like four weeks.
"Please don't tell me it's going to go any faster because I bought the computer for work?"
Despite this, whether the driving factor is cost-cutting, employee satisfaction or flexibility, companies like Dimension Data and Citrix have found that over the last year there's been a marked increase in interest in BYOC.
Regarding their in-house programme, Citrix's Mick Hollinson says nearly 20% of staff have taken advantage of the scheme.
"It's shown on average savings of 15-20% versus a traditional desktop deployment.
"I have a new employee of my own, a new director of marketing within the company. He came onboard, and within the first week he joined the BYOC programme.
"He went out and purchased himself a brand new Mac. He was very happy to get the device, and the company was very happy to not have it on their books."