ECB head Trichet says eurozone inflation rate may rise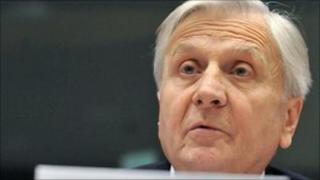 The European Central Bank (ECB) has warned that eurozone inflation rate may rise further in the coming months, as a result of higher energy costs.
Prices should then begin to fall back towards the end of the year, said ECB president Jean-Claude Trichet.
He also called on governments with high debt levels to introduce further measures to cut their budget deficits, particularly through spending cuts.
Earlier, the ECB kept interest rates on hold at 1% for the 20th month in a row.
Mr Trichet said there was "evidence of short-term upward pressure on overall inflation, mainly owing to [rising] energy prices".
Eurozone inflation could "temporarily increase further", and is "likely to stay above 2% until falling back towards the end of the year," he added.
The bank's inflation target is to keep price rises below, but close, to 2%. Inflation in the eurozone currently stands at 2.2%.
Downside risks
The ECB's confidence that prices will return towards target in the medium term helps to explain its decision to keep rates on hold.
Earlier, the Bank of England kept UK interest rates on hold at 0.5%.
Low rates are also designed to stimulate the fragile economic recovery.
Mr Trichet said there was "positive underlying momentum" to the recovery, although "uncertainty remains elevated".
Negative risks included continuing tensions in financial markets, rising oil and commodity prices, and a "disorderly" correction of global trade imbalances.
These could be offset by global trade increasing more rapidly than expected and strong business confidence, he added.
The ECB and Bank of England's decisions not to raise interest rates are in contrast to their counterparts in Asia, many of which are seeing stronger economic recoveries and rising prices.
South Korea unexpectedly raised rates on Thursday for the second time in three months, while Thailand made a similar move on Wednesday.
Australia and India have also increased rates recently.
Bond auctions
Also on Thursday, Spain held a successful auction of government bonds, helping to allay fears over the eurozone's ability to service its debts.
There was strong demand for the five-year bonds, which carried a yield of 4.54% - higher than the last auction but lower than some analysts had feared.
The sale came a day after a similar auction by Portugal.
Since the joint European Union and International Monetary Fund bail-outs of both Greece and the Irish Republic, there has been speculation that Portugal and Spain may also seek help.
But both auctions appear to have improved investor confidence in the two countries' ability to reduce their budget deficits to more sustainable levels.
A number of heavily indebted countries in Europe have introduced austerity measures to cut their deficits, but Mr Trichet called for further action.
"Major reforms" were needed to bring down deficits, he said, particularly to address "labour market rigidities".
"Where necessary, additional corrective measures [to bring down deficits], preferably on the expenditure side, need to be swiftly defined and implemented," Mr Trichet said.
This was "crucial for enhancing productivity growth and laying the foundations for economic growth," he added.