OFT warns car insurers on swapping pricing information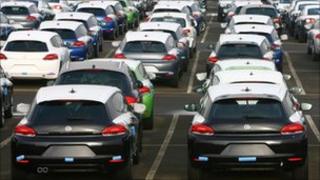 Major motor insurers have agreed to restrict the information they swap about their pricing strategies.
The Office of Fair Trading (OFT) has forced seven insurers to limit their use of a computer system that lets them compare details of their quotes.
The OFT is worried this might have undermined competition among insurers, potentially leading to drivers paying higher premiums.
This would have been a breach of the UK's competition laws.
"Being able to view competitors' pricing strategies could potentially have led to the risk of price co-ordination, putting upward pressure on premiums," said an OFT spokesman.
The computer software in question is called "WhatIf? Private Motor" and is supplied to insurers by Experian.
It gathers details of the quotes that insurers provide to brokers, and lets them analyse the price and risk that they, and their rivals, attach to the different elements of an insurance quote.
"Insurers were able to access information about their competitors' future pricing intentions as the tool was received by insurers in advance of the pricing information going 'live' in insurance policies sold by brokers," the OFT explained.
'Comply with law'
The OFT stressed that it had not examined the actual effect of the software on premiums, nor had it made a formal finding that competition laws had been breached.
But the regulator hopes that the agreement of the companies to restrict the exchange of pricing data will encourage other insurers to follow.
"We are aware that similar market analysis tools exist both in motor and other insurance markets and we urge companies using them to ensure that they are complying with competition law," said Clive Maxwell, executive director at the OFT.
The seven insurers that OFT is hoping to tie down with a formal written agreement are Ageas (formally Fortis), Aviva, AXA, Liverpool Victoria, RBS Insurance, Royal Sun Alliance and Zurich.
The Association of British Insurers said: "We welcome the OFT's proposal to consult on an approach that has been agreed with some motor insurance companies to ensure that there is no concern about any infringement going forward."
Rupert Roker Consumer Focus said the OFT should now look at the sale of other forms of insurance.
"A motor insurer knowing what prices a customer will be quoted by other companies is very bad news for consumers," he said.
"Customers who have shopped around to get the best price will be left feeling they have got a particularly raw deal."