Global economic growth to slow in 2011, says World Bank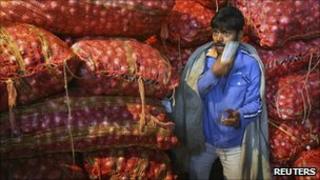 The global economy will slow this year, with developing countries such as India and China providing a greater share of growth, the World Bank has predicted.
The bank estimates that global GDP growth will be 3.3% this year against 3.9% in 2010, with emerging markets growing by 6%.
But these rates would not be enough to reduce unemployment in the hardest-hit economies, it said.
The bank warned that "serious tensions and pitfalls" persist.
These included the eurozone debt crisis and the risk of large amounts of capital flowing from low-interest developed economies to higher-interest emerging markets, which could affect currencies.
It also said it was "very concerned about rising food prices".
Government debt
The bank forecasts growth this year in China of 8.7% and in India of 8.5%. This compares with a forecast of 2.4% for rich countries collectively.
"If the financial crisis was a kind of stress test for developing economies, then they passed with flying colours," the bank said.
It is these economies that will drive global growth in 2011, it said, despite continuing issues in developed economies.
These include high household debt, unemployment, weak banking sectors and high government debt levels, particularly in Europe.
"Strong developing-country domestic demand growth is leading the world economy, yet persistent financial sector problems in some high-income countries are a still a threat to growth that require urgent policy actions," said Justin Yifu, the bank's chief economist.
The bank's analysis reflects some of the concerns raised by the World Economic Forum (WEF) in its Global Risks Report published on Wednesday, which warned that economic imbalances, volatile commodity prices and currencies, and governments' budget shortfalls were "unsustainable".
The global economy was "in no position to face major new shocks", the WEF said.
Food prices
The World Bank also expressed concern about rising commodity and energy prices.
"If international prices continue to rise, affordability issues and poverty impacts could intensify," it warned.
"We are very concerned about the rise in food prices. We can see some similarities with the situation in 2008, just before the financial crisis," said Hans Timmer, the bank's director of development prospects.
In 2008, sharp rises in food costs led to riots in a number of countries.
However, Mr Timmer did say the situation was "slightly different" this time around, not least because grain stocks are much larger.