Brent oil price at 27-month high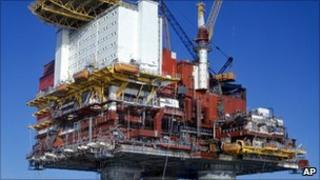 The price of Brent crude oil has touched its highest level in 27 months, as a result of production shutdowns and increasing global energy demand.
Brent reached $98.80, its highest level since April 2009, before trimming gains to close up 51 cents at $98.12.
The rise came after two Norwegian oil fields had to close on Tuesday due to a gas leak. Both have since reopened.
Alaskan oil production also continued to be hit by a pipeline leak. US light crude rose 75 cents at $91.86.
The leak in Alaska caused the US state's main Trans-Alaska Pipeline to be closed to all but 5% of its usual output since Saturday.
However, output through the pipeline was returned to two thirds of its usual level on Wednesday.
Commerzbank oil analyst Carsten Fritsch said Brent was now expected to hit $100 a barrel.
He added: "It seems only a matter of time, if sentiment remains positive and more disruptions on the supply side come in."
The Trans-Alaska Pipeline is important because it carries almost 12% of US crude output. It is due to reopen later this week.