Art 'remains a popular investment for wealthy'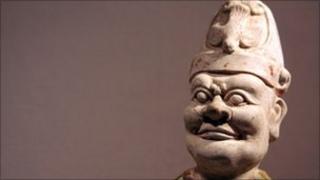 Wealthy buyers are continuing to invest in art and antiques during tough economic times, according to a survey.
The proportion of surveyors who said prices rose in art and antiques costing more than £50,000 leapt in the final three months of 2010.
Items such as silver and jewellery, Chinese art and ceramics did well, the Royal Institution of Chartered Surveyors (Rics) said.
But the group said prices could flatten in the coming year.
'Buoyant'
Some 42% of chartered surveyors reported prices rose rather than fell in the £50,000-plus price bracket, the survey for the final three months of 2010 found.
This was up sharply from 20% in the previous three months, and the highest since the second quarter of 2008.
Rics suggested that this highlighted the number of wealthy buyers investing in art at a time of low interest rates and economic worries in the UK.
"The art and antiques market remains a strong performer for buyers looking to invest in more tangible assets to guard against the uncertain economic picture," said Rics spokesman Chris Ewbank.
"Traditional items such as silver and jewellery will always do well in difficult economic times, but Chinese art and ceramics are increasingly popular, particularly with Chinese buyers."
Only oils and watercolours were showing evidence of price falls, the survey found.
Surveyors said they expected to see a rise in both supply and demand of art and antiques in 2011, which meant that the trend of rising prices seen over 2010 could flatten.