Norwich & Peterborough boss Matthew Bullock to retire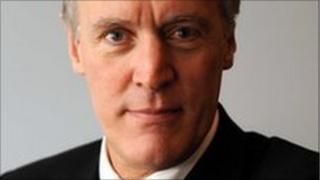 The chief executive of the Norwich & Peterborough (N&P) building society, Matthew Bullock, is to retire.
In a statement he acknowledged that much of the past year had been dominated by the Keydata issue, which has led to complaints from N&P savers.
N&P advisers sold £50m worth of Keydata policies, now regarded as worthless, to 3,100 of the society's customers.
The N&P revealed in December that it had been in talks with a number of rivals about a merger or takeover.
Keydata row
The N&P customers who bought Keydata policies, along with other Keydata clients, have been told thay can claim compensation from the Financial Services Compensation Scheme (FSCS).
However, some N&P customers are still planning to sue the society over their losses.
Mr Bullock has been at the helm of the society for 12 years but has spent most of 2010 trying to placate angry savers who claimed they were misled by the society's investment advisers into buying the policies provided by Keydata.
Keydata, based in Reading, was closed down by the Financial Services Authority in 2009. It subsequently emerged that about 30,000 investors in Keydata's policies had lost, or stand to lose, almost £450m.
In a statement, Mr Bullock said: "Having steered the society through many changes, including the worst of the financial crisis in 2008-09, now is an appropriate time to make way for a successor.
"Inevitably the Keydata issue has dominated much of the last 12 months, but over the last 12 years it has been providing personal service and engagement with the needs of members and staff which have been my over-riding passions, and which I shall miss," he added.
Mr Bullock, who is 61, will step down when a replacement is found.
The N&P is the ninth largest building society in the UK, with 46 branches mainly in the East of England.