China bans German pork and eggs in dioxin scare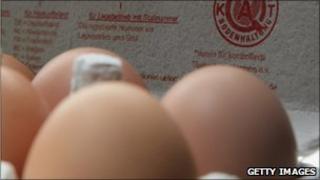 China has banned imports of German pork and egg goods after tests last week had revealed levels of dioxin at 77 times the permitted level in animal feed.
The country has ceased imports of "German-produced edible pork and egg products" China's product safety watchdog said in a statement.
The authorities will also inspect goods shipped from Germany before the ban was imposed to see if they are safe.
Previously only South Korea had banned German pork imports.
Slovakia had halted sales of German eggs and poultry meat, even though Germany has said there is no immediate risk to human health.
The Chinese ban was effective from 11 January, said the country's General Administration of Quality Supervision, Inspection and Quarantine (AQSIQ).
Shipments already on the way to China and that arrive after 11 January will have to be tested for dioxin.
Oil mix-up
German Agriculture Minister Ilse Aigner wants to look at tightening regulations in order to prevent a repeat of the current situation.
The scare started after oils intended for bio-fuel had become mixed with oil destined for animal feed.
Some 4,700 German farms were banned from making deliveries after tests at the Harles und Jentzsch plant in the state of Schleswig-Holstein, which produces fats for use in industrial processes as well as to enrich animal feed.
Most of these farms have been since been given the all-clear.
Dioxins are toxins formed by industrial processes and waste burning.
They have been shown to contribute to higher cancer rates and to affect pregnant women.