Australian floods 'to hit economic growth'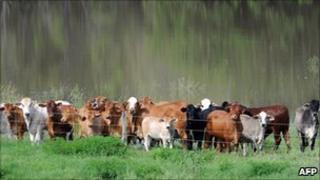 Up to 1% could be cut from Australia's economic growth in 2011 as a result of the flooding in Queensland, according to a board member of the Reserve Bank of Australia.
"If you look at the infrastructure damage and all the networks that have been broken, a hit to the economy of 1% is not out of the question," Warwick McKibbin told the Sydney Morning Herald.
Economists had already been anticipating a loss of 0.5% in the current year.
However, the new figure would see a reduction of 13bn Australian dollars ($12.7bn; £8.2bn) in the 2011 figures.
Global reach
The floods could well have an impact on economies other than that of Australia.
According to analysts, the flooding in Queensland could remove over 5% of coking coal - which is used in the manufacturing of steel - from world markets this year and lift prices by a third or more.
Fitch Ratings meanwhile, has pointed out that Australia's insurance companies are reasonably protected by catastrophe reinsurance.
"Initially, insured losses appeared to have been relatively low given that the areas affected were less densely populated," said Fitch director John Birch.
The losses so far would not necessarily trigger the catastrophe clauses for reinsurance, but that seems likely to change.
"With the floods now inundating Ipswich and Brisbane cities, losses could escalate substantially," Mr Birch said.