Lloyds' Eric Daniels in line for £2m bonus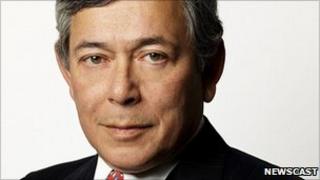 Lloyds Banking Group boss Eric Daniels is in line for a bonus of about £2m this year, the BBC has learned.
Mr Daniels, who steps down in March, has turned down a bonus in the past two years but will not do so again, sources told BBC business editor Robert Peston.
The government bailed out Lloyds after it took over HBOS in 2008, and still holds a 41% stake in the bank.
On Tuesday, Barclays boss Bob Diamond said he had not decided whether he would accept a bonus this year.
On top of the bonus, Mr Daniels could receive shares worth another £2m from a long-term incentive plan, according to our correspondent.
The announcement on the bonus will be made in February, he added.
The news of Mr Daniels' bonus came on the day that the Labour leader Ed Miliband accused Prime Minister David Cameron of "pathetic excuses" for breaking promises to limit bank bonuses.
Mr Cameron responded by saying Mr Miliband had got his figures wrong and had done little on bank bonuses when he was at the Treasury.
There is growing anger among many MPs that banks seem intent on paying out big bonuses this year, despite the fragile economic recovery from a recession that many blame on a financial crisis brought about in part by the actions of bankers.
Government pressure
The takeover of HBOS in 2008 cost Lloyds billions of pounds as it became clear HBOS was holding far more bad debt than originally thought.
As a result, Mr Daniels has been criticised for his bank's failure to subject the HBOS loan book to proper due diligence.
However, he has also been credited with returning Lloyds to profit earlier than many analysts thought likely. He also oversaw a rights issue that raised £13.5bn for the bank.
The government is also expected to make a profit when it eventually sells its stake in the bank.
The government has consistently called on banks to show restraint in bonus payments this year, particularly given the fact that its own austerity measures are expected to bring hardship to many in the UK.
Many have argued that given the fact it has offered hundreds of billions of pounds of support to the banking sector, and directly bailed out Lloyds and Royal Bank of Scotland, the government should have a greater say in bank bonus payments.
Increased lending
The coalition is currently in negotiations with the banks to pay smaller bonuses.
So far, however, there is little evidence that banks will make any significant adjustments to bonuses.
They argue that they risk losing top staff to rival banks if they reduce payments. This was the argument put forward by Mr Diamond to a Treasury Committee hearing on Tuesday.
The government is also pressing banks to lend more to small businesses, a key to boosting the economic recovery.
It may give ground on bonuses if it can secure commitments to lend more, observers suggest.
The banks have been criticised for not lending more to help businesses throughout the downturn.
For their part, the banks argue that the demand for lending has dropped off, as businesses look to consolidate rather than invest.
They also say they are under pressure from the government to hold more cash in reserve to protect themselves better against any future financial crises.