Supergroup shares jump on 'record' Christmas sales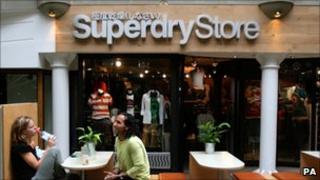 Shares in Supergroup, the firm behind the Superdry fashion brand, have jumped 19% after the company reported its "best-ever" Christmas trading.
For the nine weeks to 2 January, total sales almost doubled to £65.1m from a year ago.
The firm also said it had managed to counter the impact of rising cotton prices and its profit margins would not be affected this year.
Last month, Supergroup shares slumped over worries about rising costs.
This followed a statement in which the company expressed concerns about the increasing price of cotton.
Brand 'strength'
Retail sales in the final two months of last year rose by 94% to £51.7m against a year earlier, while wholesale sales increased by 78% to £13.4m.
"This performance demonstrates the strength of our brand and the loyalty of our customers," said the group's chief executive Julian Dunkerton.
"As a result of negotiations with our suppliers and selected price increases, we have largely mitigated the rise in cotton prices and there will be no impact to our 2011 gross margins."
Supergroup was launched in 1985 in Gloucestershire and has 59 stores under its Superdry and Cult brands, as well as 69 concessions.