Oil price rises as Alaskan pipeline remains closed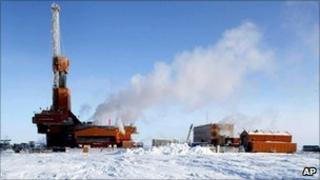 Oil prices have continued to rise as a main Alaskan pipeline remained all but closed for a fourth day, and Norway's Statoil was forced to shut two fields in the North Sea.
The Trans-Alaska Pipeline has now been closed since Saturday, after a spillage at one of its pump stations. It is expected to reopen later this week.
Statoil halted output at Snorre and Vigdis after a gas leak on Tuesday.
US light crude oil ended Tuesday up $1.86, or 2%, at $91.11 per barrel.
London's Brent added $1.91 to settle at $97.61.
It is not yet known when Norway's Statoil will be able to resume production at the two oil and gas fields.
Since Saturday only 5% of typical output has flowed through the Trans-Alaska Pipeline.
The pipeline is important because it carries almost 12% of US crude output, typically 630,000 barrels per day.